Never Say Never by Scarlett Haven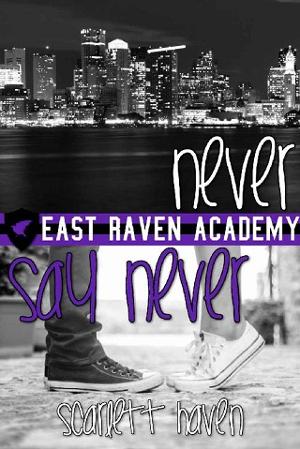 Sander Soto is the most frustrating man on the planet.
He's also helping keep me alive, which seems to be quite a feat as of late.
Just when I think things can't get worse, they do. I am no longer safe living my dorm room, which means I'm now forced to spend my every waking moment with Sander.
I miss my friends.
I miss my family.
I miss my life.
Unfortunately, it looks like I'm going to be stuck with Sander a while longer.
File Name:never-say-never-by-scarlett-haven.epub
Original Title:Never Say Never (East Raven Academy Book 3)
Creator:

Scarlett Haven

Language:en
Identifier:MOBI-ASIN:B07GJS1YRZ
Date:2018-09-20T16:00:00+00:00
File Size:238.782 KB
Table of Content
1. Contents
2. Title Page
3. Copyright Page
4. Author's Note
5. Tuesday, September 26
6. Wednesday, September 27
7. Thursday, September 28
8. Friday, September 29
9. Saturday, September 30
10. Sunday, October 1
11. Monday, October 2
12. Tuesday, October 3
13. Wednesday, October 4
14. Thursday, October 5
15. Friday, October 6
16. Saturday, October 7
17. Sunday, October 8
18. Monday, October 9
19. Tuesday, October 10
20. Wednesday, October 11
21. Thursday, October 12
22. Friday, October 13
23. Saturday, October 14
24. Sunday, October 15
25. Monday, October 16
26. Tuesday, October 17
27. Wednesday, October 18
28. Thursday, October 19
29. Friday, October 20
30. Saturday, October 21
31. Author's Note
32. More Books by Scarlett
33. Find Scarlett Online