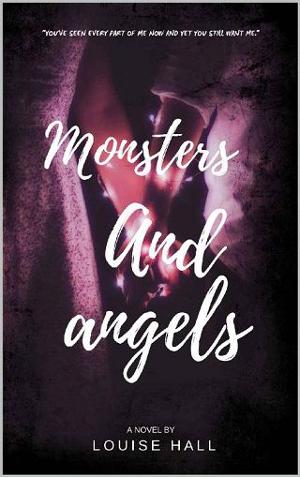 Kian Warner has always been a Neanderthal who's fiercely protective of the woman he calls his "angel" but he's also keeping a terrible secret from her and the rest of the world. In the final instalment of the Cate & Kian series, find out why he was drawn so strongly to Cate all those years ago despite the fact that she was a sweet, eighteen year old book-nerd and he was a playboy professional footballer. They've faced numerous challenges over the years but this could be their toughest yet.
"I want you to have this," Kian handed her the envelope.
"What is it?" Cate asked, her bottom lip trembling.
Kian steeled himself, "they're…" He could barely get the words out but that wasn't a surprise. The same thing had happened earlier when he'd discussed it with his lawyer, Bram.
He closed his eyes, "they're divorce papers, angel."
Cate gasped. She threw the envelope on the floor. "You're leaving me?"
Can Kian finally vanquish the monsters that have been plaguing him for most of his adult life? Will Cate be strong enough to fight for him and their marriage?
Book Details
File Namemonsters-angels-by-louise-hall.epub
Original TitleMonsters & Angels (Cate & Kian Book 7)
Creator

Louise Hall

Languageen
IdentifierMOBI-ASIN:B07KVJB845
Date2019-01-09T16:00:00+00:00
File Size210.034 KB
Table of Content
1. 30 Years Ago
2. Thursday February 14th
3. Wednesday February 13th
4. Christmas Eve – 16 Years Ago
5. Thursday February 14th
6. Friday February 15th
7. Sunday February 10th
8. Friday February 15th
9. Monday February 18th
10. Eamon's Funeral – 17 Years Ago
11. Monday February 18th
12. Tuesday February 19th
13. Wednesday February 20th
14. Thursday February 21st
15. Lola's Homecoming - 14 Years Ago
16. Saturday February 23rd
17. Sunday February 24th
18. Monday February 25th
19. Tuesday February 26th
20. Wednesday February 27th
21. Wednesday March 13th
22. Thursday March 14th
23. Christmas Eve – 16 Years Ago
24. Thursday March 14th
25. Friday March 15th
26. Saturday March 16th
27. Sunday March 17th
28. Monday March 18th