Mercy by Jade Kuzma
no ratings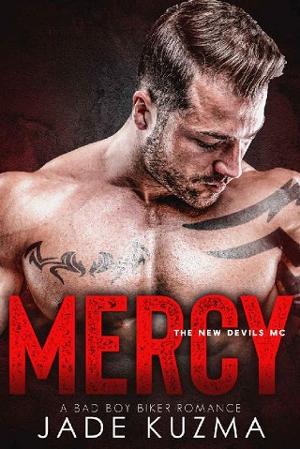 ADEN
"I never wanted this damn life. I just… I just wanted to be left alone. That's why I came to Ivory. To get lost.
To get lost with a woman like her… Danica…
She's a damn goddess if I've ever seen one. She's all I could ever want, all I could ever need.
I thought I could get away with her.
I thought wrong…"
DANICA
"Life in Ivory… I can't imagine why anybody would want to come and live in this town.
There is some excitement with all of the MCs and punks riding around. But I'm not involved with any of that. I'm just trying to get by.
Him though… He must not be from around here.
He seems interesting in a way I can't explain. And it's not just because he looks strong enough to punch a hole through a brick wall. No… There's something else about him…"
Welcome back to Ivory…
Aden could never get away. With as big and tall as he is, he's always drawing attention to himself even though he never wants it. Working as a trainer at the local gym, he keeps his head down the best he can and gets by doing what he does best.
Things change when he meets Danica one night. A chance encounter between them quickly turns into something passionate. The two of them begin to explore feelings that neither one can deny. But Danica's dreams of being with a man like Aden aren't as simple as she thinks they might be.
The past is coming back to Aden. With Danica by his side, the stakes are higher. Now they're in so deep together that they might not be able to get out…
File Name:mercy-by-jade-kuzma.epub
Original Title:Mercy: A Bad Boy Biker Romance (New Devils MC Book 3)
Creator:

Jade Kuzma

Language:en
Identifier:MOBI-ASIN:B07GTVRJ6D
Date:2018-08-24T16:00:00+00:00
File Size:246.774 KB
Table of Content
1. Chapter 1
2. Chapter 2
3. Chapter 3
4. Chapter 4
5. Chapter 5
6. Chapter 6
7. Chapter 7
8. Chapter 8
9. Chapter 9
10. Chapter 10
11. Chapter 11
12. Chapter 12
13. Chapter 13
14. Chapter 14
15. Chapter 15
16. Chapter 16
17. Chapter 17
18. Chapter 18
19. Chapter 19
20. Chapter 20
21. Chapter 21
22. Chapter 22
23. Chapter 23
24. Chapter 24
25. Chapter 25
26. Chapter 26
27. Chapter 27
28. Chapter 28
29. Epilogue 1
30. Epilogue 2
31. Thank you!
32. The New Devils
33. The Black Reapers