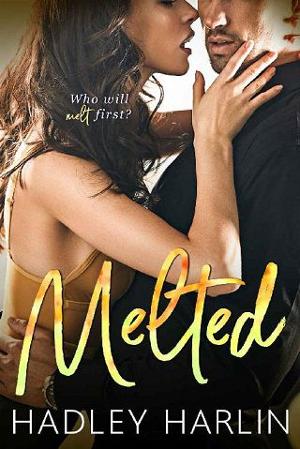 The world's sexiest bad boy chef three years in a row. The woman whose restaurant he tried to ruin. A cooking competition that throws them together. Who will melt first?
Hawthorne West is at the top of his game, racking up celebrity chef appearances and women across the globe. Until he's asked to co-host a new travel cooking competition with Chef Sophia Sato.
Licking her wounds after a Michelin star snub, Sophia agrees to co-host the show to bring buzz to her restaurant. It isn't until she arrives in Paris that she realizes Hawthorne comes with the gig.
Sophia is so forked.
File Name:melted-by-hadley-harlin.epub
Original Title:Melted (Cooking up a Celebrity Book 1)
Creator:

Hadley Harlin

Language:en
Identifier:MOBI-ASIN:B07Y5V98T8
Publisher:

Henwin Press LTD

Date:2019-10-07T16:00:00+00:00
File Size:361.153 KB
Table of Content
1. Title Page
2. Copyright
3. Contents
4. Melted
5. Chapter 1
6. Chapter 2
7. Chapter 3
8. Chapter 4
9. Chapter 5
10. Chapter 6
11. Chapter 7
12. Chapter 8
13. Chapter 9
14. Chapter 10
15. Chapter 11
16. Chapter 12
17. Chapter 13
18. Chapter 14
19. Chapter 15
20. Chapter 16
21. Chapter 17
22. Chapter 18
23. Chapter 19
24. Chapter 20
25. Chapter 21
26. Chapter 22
27. Chapter 23
28. Chapter 24
29. Chapter 25
30. Chapter 26
31. Chapter 27
32. Chapter 28
33. Chapter 29
34. Chapter 30
35. Chapter 31
36. Chapter 32
37. Chapter 33
38. Chapter 34
39. Chapter 35
40. Chapter 36
41. Epilogue
42. Afterword
43. Sneak Peek of Book 2
44. Chapter 1
45. Chapter 2
46. About the Author