Married to a SEAL by Makenna Jameison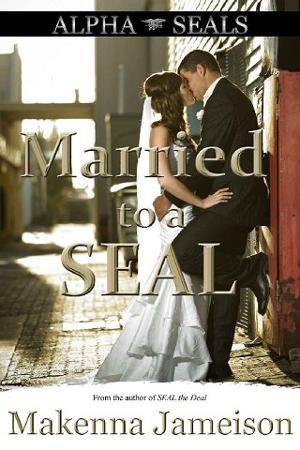 Everything can change in a heartbeat… Navy SEAL Patrick "Ice" Foster has devoted his life to the Navy, but when he met attorney Rebecca Mayes a year ago, she and her daughter instantly stole his heart. A surprise pregnancy means big changes are coming in their lives—and neither of them could be happier.
When Patrick's SEAL team is sent on a rescue mission to Afghanistan, an explosion changes everything in an instant. Patrick is gravely injured, and Rebecca doesn't know if he'll survive—or that he's already bought her a ring. Patrick will do anything to make it back to Rebecca. But will the future they dreamed of never even have a chance to start?
Book Details
File Namemarried-to-a-seal-by-makenna-jameison.epub
Original TitleMarried to a SEAL (Alpha SEALs Book 9)
Creator

Makenna Jameison

Languageen
IdentifierMOBI-ASIN:B07DQQN2JJ
Date2018-06-12T23:00:00+00:00
File Size211.394 KB
Table of Content
1. Chapter 1
2. Chapter 2
3. Chapter 3
4. Chapter 4
5. Chapter 5
6. Chapter 6
7. Chapter 7
8. Chapter 8
9. Chapter 9
10. Chapter 10
11. Chapter 11
12. Chapter 12
13. Chapter 13
14. Chapter 14
15. Chapter 15
16. Chapter 16
17. Chapter 17
18. Chapter 18
19. Chapter 19
20. Thank you for Reading Married to a SEAL!
21. Alpha SEALs Series List
22. About the Author
23. SEAL the Deal Excerpt