Loving Raven by Kasey Belle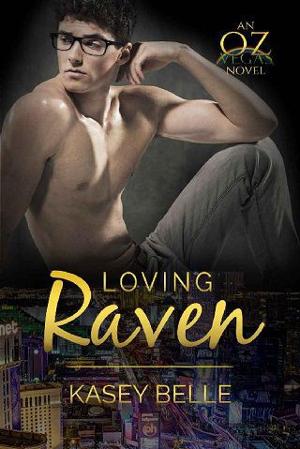 Raven Van Norden was the epitome of introverted computer geek. Raven's personality served him well in his professional life. His personal life? Not so much. What Raven desired most could not be created with a few lines of code. If only it was that simple. Raven's ultimate dream? To love and be loved in return.
The Oz-Vegas project boosted Raven's bottom line. It also put Quinn Thorn, Oz's head of security, in his path. Everything about the ginger-haired man appealed to Raven. He even found Quinn's hand sanitizer addiction charming. Unfortunately, they had nothing in common, but that didn't stop Raven from wanting Quinn. However, Raven wasn't sure it worth risking his already fragile heart to find out if opposites really attract.
Quinn has wanted Raven for months. It was the underlying sadness always present in Raven's eyes drew Quinn in, but Raven's brilliant mind, shy demeanor, and sensitive soul are what held him captive. Quinn knew they'd be perfect together despite their differences. So far, the adorable man with the nerdy glasses and geek chic attire was impervious to Quinn's charm.
Tragedy struck derailing Quinn's plans and his life. Now, every decision had to be made with his niece Luna in mind. Should Quinn still pursue Raven or was it too late for them? Would Raven even be interested now that Quinn came with a plus one?
File Name:loving-raven-by-kasey-belle.epub
Original Title:Loving Raven (Oz-Vegas Trilogy Book 2)
Creator:

Kasey Belle

Language:en
Identifier:MOBI-ASIN:B07T6SDZHL
Date:2019-06-12T16:00:00+00:00
File Size:262.645 KB
Table of Content
1. Prologue
2. Chapter 1
3. Chapter 2
4. Chapter 3
5. Chapter 4
6. Chapter 5
7. Chapter 6
8. Chapter 7
9. Chapter 8
10. Chapter 9
11. Chapter 10
12. Chapter 11
13. Chapter 12
14. Chapter 13
15. Chapter 14
16. Chapter 15
17. Chapter 16
18. Chapter 17
19. Chapter 18
20. Chapter 19
21. Chapter 20
22. Chapter 21
23. Chapter 22
24. Chapter 23
25. Chapter 24
26. Chapter 25
27. Chapter 26
28. Epilogue
29. Acknowledgement
30. About The Author
31. Please Stalk Me
32. Other Works