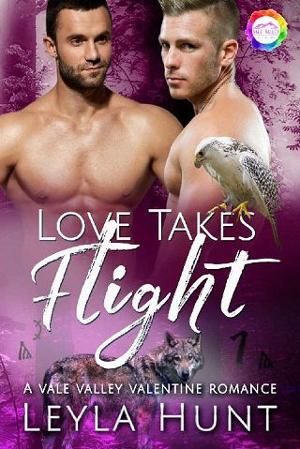 An entranced alpha wolf
Alpha wolf shifter and shaman Silas just wanted a place where he could be himself and fit in, so after leaving their homeland, he and his brothers settled in Vale Valley. Being a personal health and spiritual coach keeps him busy, and while he'd love to be mated and start a family of his own, he just can't find or make the time; he's too busy perfecting his magical powers and trances.
That is, until he meets Lucas. The falcon shifter calls to him in a way no one else has and suddenly, he can't wait to make this bird his own.
An omega falcon with a healing touch…
Lucas thrives on helping people. It's one of the reasons he became a nurse. His healing touch comes in handy when he sees Silas take a tumble outside his favorite creperie. A relationship is the last thing on his mind, but as he gets to know the wolf shaman, Lucas realizes his life has been missing.
Book Details
File Namelove-takes-flight-by-leyla-hunt.epub
Original TitleLove Takes Flight: A Valentine Romance (Vale Valley Season 2 Book 5)
Creator

Leyla Hunt

Languageen
IdentifierMOBI-ASIN:B07MQKMK4W
Date2019-02-01T16:00:00+00:00
File Size148.337 KB
Table of Content
1. Title Page
2. Copyright
3. Contents
4. Contact and Newsletter
5. 1. Silas
6. 2. Lucas
7. 3. Silas
8. 4. Lucas
9. 5. Silas
10. 6. Lucas
11. 7. Silas
12. 8. Lucas
13. 9. Silas
14. Epilogue
15. Vale Valley Valentine Series
16. Other Titles by Leyla Hunt
17. CONTACT & ABOUT LEYLA HUNT