Kassandra's Wolf by Leilani Love
no ratings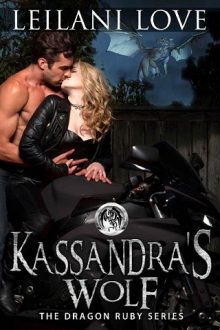 She drugged him!
Damien had never before been as outraged until he awoke in his apartment—alone. His head sore and his ego deeply bruised, his body ached for the release her enticing body had promised when they walked up those stairs a few hours earlier. The whole situation would've been laughable except for the fact that his wolf imprinted on her. Damien knew that from now until the day he died, she will be the only one for him—and she had drugged him. After a quick search of the bar, he decided that nothing notable was missing, leaving Damien hoping that whatever she was looking for—she didn't find. Maybe, his delectable thief would try again, at his home next time.
Kassandra is the only Dragon Guard who has the ability to hide her scent. So, when the wayward Dragon
Prince Dmitri is spotted in the same town as the wolf shifter Damien, it becomes her responsibility to see what he is up to. Not finding what she is looking for at his bar, she makes a plan to sneak into his house—imagine her surprise when he is there waiting for her. When he mistakes her for a common thief, Damien offers an ultimatum: spend two days with him or he will turn her in and plaster her picture everywhere.
Damien has two days to convince her to stay and give in to the attraction.
Kassandra has two days to get the information she came for and make her escape. But, with trouble circling them and her growing desire for him—will she be able to walk away? Will it even matter once he finds out who she really is?
File Name:kassandras-wolf-by-leilani-love.epub
Original Title:Kassandra's Wolf (The Dragon Ruby Series Book 3)
Creator:

Leilani Love

Language:en
Identifier:MOBI-ASIN:B01KCW89ZS
Publisher:

Leilani Love

Date:2016-10-13T18:30:00+00:00
File Size:241.828 KB
Table of Content
1. Table of Contents
2. Kassandra's Wolf
3. Copyright
4. Other Books by Leilani Love
5. Dedication
6. Prologue
7. Chapter 1
8. Chapter 2
9. Chapter 3
10. Chapter 4
11. Chapter 5
12. Chapter 6
13. Chapter 7
14. Chapter 8
15. Chapter 9
16. Chapter 10
17. Chapter 11
18. Chapter 12
19. Chapter 13
20. Chapter 14
21. Chapter 15
22. Chapter 16
23. Chapter 17
24. Chapter 18
25. Chapter 19
26. Chapter 20
27. Chapter 21
28. Chapter 22
29. Chapter 23
30. Chapter 24
31. Chapter 25
32. Chapter 26
33. Chapter 27
34. Chapter 28
35. Chapter 29
36. Chapter 30
37. Chapter 31
38. Chapter 32
39. Chapter 33
40. Chapter 34
41. Chapter 35
42. Chapter 36
43. Chapter 37
44. Epilogue
45. About the Author