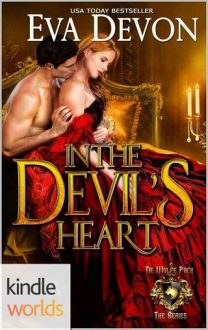 Lady Lily Scott is on the run from her abusive father-in-law. She's had it all, wealth, power, and anything her heart could ever desire. But she knows the dark side of all that glitters. Surviving her husband's death on the battlefield but able to countenance her father-in-law's control of her son, she steals her boy away to Scotland, hiding in the glens to keep him safe.
Laird Ian Aberroth, Earl of Glenfin, has returned from war a broken man. All he wants is to find peace in the wild mountains of his land. But when he meets Lady Lily Scott and her small son he will have to choose a life in solitude or plunge back into the fray of life to save them.
Book Details
File Namein-the-devils-heart-by-eva-devon.epub
Original TitleIn the Devil's Heart
Creator

Eva Devon

Languageen
IdentifierMOBI-ASIN:B01LMHICCW
Publisher

Kindle Worlds

Date2016-09-04T04:00:00+00:00
SubjectHistorical Romance,Regency,Victorian,Highlander
File Size102.670 KB
Table of Content
1. Title Page
2. This story is for my sons. They are the light of my world. And my husband, he is dearer than he can know. | Acknowledgements go to Patricia, Linda, Kaylee, and Melissa! Scott, you are a treasure.