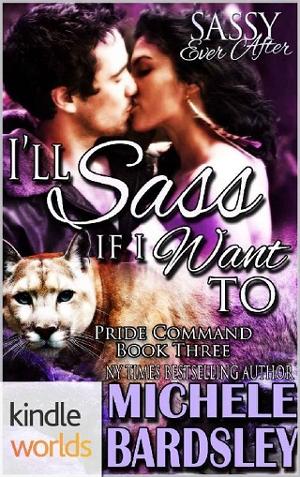 In the world of cat shifters, the rules are clear: no cross-species breeding, no mingling with vampires, and never, ever challenge the Pride's commands…
Outcast werecougar Gareth Harper, his pregnant human mate Angela Ross, and their partner, vampire Thomas Moore have teamed up with Aris and Kane, two former guardians of the Harper colony, and their mate, fledgling vampire Cyn Salias. On the run together, they're determined to steer clear of the Harper Pride's alpha and his new partner-in-evil, a very powerful, pissed-off vampire.
The fugitives find temporary shelter in an abandoned town, but soon find themselves in even worse trouble. It turns out that Hellion Hill is the home of magic-wielding creature that attacks at night. The problem? Once you enter Hellion Hill's borders, you can't leave—thanks to the monster's imprisoning spell.
When Angela goes into labor, the imminent arrival of her child complicates matters even more. Their only choice is to destroy the centuries-old creature and break its hold on the area—before their relentless and vengeful enemies find them.
Book Details
File Nameill-sass-if-i-want-to-by-michele-bardsley.epub
Original TitleSassy Ever After: I'll Sass If I Want To (Kindle Worlds Novella) (The Pride Commands Book 3)
Creator

Michele Bardsley

Languageen
IdentifierMOBI-ASIN:B07794KJWJ
Publisher

Kindle Worlds

Date2017-11-07T18:30:00+00:00
File Size136.712 KB