I Hate You, Remember Me by Jamie Knight
no ratings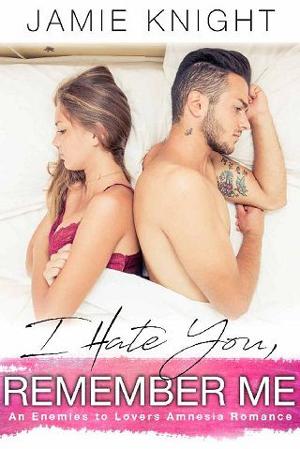 She hates me.
But I can't remember why.
An accident nearly takes my life and does take my memory.
I can't remember who my temporary roommate is.
But I do know she's the hottest woman I've ever seen.
A single mom, she's a redhead with tempting curves.
Being with her would help me heal, body and soul.
But she hates my guts.
I guess we knew each other in high school and have quite a twisted past.
No one knows exactly what happened between us and she won't tell me.
She just wants me gone, until she needs my help.
I agree to babysit but I'll need her to do me a favor in return.
One little hate hook up never hurt anyone, right?
We'll get it out of our system.
And it might even help me remember some things.
But do I want to know what made me hate this feisty beauty?
Are some things better left in fantasy?
Or could I really have a happy ever after with someone I started off hating?
File Name:i-hate-you-remember-me-by-jamie-knight.epub
Original Title:I Hate You, Remember Me: An Enemies to Lovers Amnesia Romance
Creator:

Jamie Knight

Language:en
Identifier:MOBI-ASIN:B07N2K1YFL
Date:2019-01-22T16:00:00+00:00
File Size:604.852 KB
Table of Content
1. Chapter One
2. Chapter Two
3. Chapter Three
4. Chapter Four
5. Chapter Five
6. Chapter Six
7. Chapter Seven
8. Chapter Eight
9. Chapter Nine
10. Chapter Ten
11. Chapter Eleven
12. Chapter Twelve
13. Chapter Thirteen
14. Chapter Fourteen
15. Chapter Fifteen
16. Chapter Sixteen
17. Chapter Seventeen
18. Chapter Eighteen
19. Chapter Nineteen
20. Chapter Twenty
21. Chapter Twenty-One
22. Chapter Twenty-Two
23. Chapter Twenty-Three
24. Chapter Twenty-Four
25. Chapter Twenty-Five
26. Epilogue
27. Sneak Peak of My Father's Best Friend's Secret Baby
28. Sneak Peek of Office Pet
29. Newsletter Signup