I Hate You, Marry Me by Jamie Knight
no ratings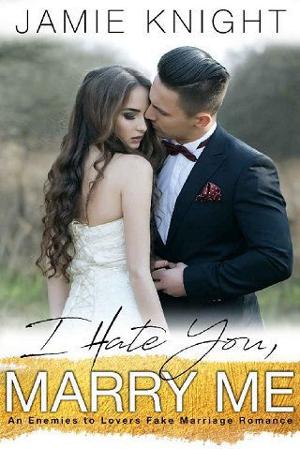 I can stand her haughty behavior.
But she is so hot.
Savannah is the sexiest girl I've ever seen.
Her body haunts my dreams
and I find myself watching her in our medical school classes.
But I don't like her personality.
She's so stuck up and doesn't realize how good she has it.
Plus, she doesn't remember our past.
Just when I think I can't hate her more,
she cheats off of me on a test and gets us both kicked out of school.
I had hoped to never see her again.
But Savannah comes knocking at my door with a new proposition.
She needs me to marry her.
And in return, she will pay for my schooling.
I can't resist her or her offer.
I soon find myself in bed with the woman I hate most.
Will the feel of her body beneath mine be enough to make me forgive her?
Or will we both find that there is more to this mess than we ever imagined?
File Name:i-hate-you-marry-me-by-jamie-knight.epub
Original Title:I Hate You, Marry Me: An Enemies to Lovers Fake Marriage Romance
Creator:

Jamie Knight

Language:en
Identifier:MOBI-ASIN:B07P71WD1S
Date:2019-02-27T16:00:00+00:00
File Size:471.434 KB
Table of Content
1. Chapter One
2. Chapter Two
3. Chapter Three
4. Chapter Four
5. Chapter Five
6. Chapter Six
7. Chapter Seven
8. Chapter Eight
9. Chapter Nine
10. Chapter Ten
11. Chapter Eleven
12. Chapter Twelve
13. Chapter Thirteen
14. Chapter Fourteen
15. Chapter Fifteen
16. Chapter Sixteen
17. Chapter Seventeen
18. Chapter Eighteen
19. Chapter Nineteen
20. Chapter Twenty
21. Chapter Twenty-One
22. Chapter Twenty-Two
23. Chapter Twenty-Three
24. Chapter Twenty-Four
25. Chapter Twenty-Five
26. Chapter Twenty-Six
27. Chapter Twenty-Seven
28. Chapter Twenty-Eight
29. Chapter Twenty-Nine
30. Chapter Thirty
31. Chapter Thirty-One
32. Chapter Thirty-Two
33. Epilogue
34. Other Books in the series
35. Sneak Peek of I Hate You, Move In
36. Sneak Peak of My Father's Best Friend's Secret Baby
37. Newsletter Signup