I Dream of Genies by Judi Fennell
no ratings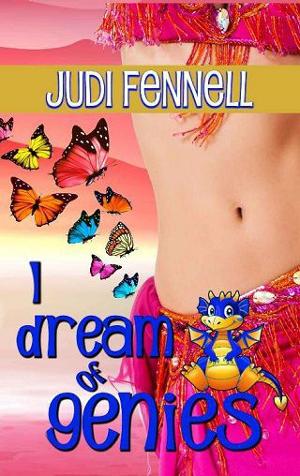 He needs to change his luck, and fast!
Matt Ewing would gladly hunt down a fortune in lucky pennies if he thought it would help save his business. But for all his hoping, Matt's clueless when his long-awaited lucky charm falls in his lap in the form of a beguiling genie. He just can't believe that this beautiful woman could be the answer to his prayers…
She's been bottled up for far too long!
Spending 2,000 years in a bottle would make any woman a little stir-crazy. So when Matt releases Eden from her luxurious captivity, she's thrilled to repay him by giving him the magical boost he needs…
But for all her good intentions, Eden's magical prowess is a little rusty and her magical mistakes become more than embarrassing. And though Eden knows falling in love will end her magic and immortality, she can't help but be drawn to the one man who wants her just for herself…
File Name:i-dream-of-genies-by-judi-fennell.epub
Original Title:I Dream of Genies (Magically Ever After Book 4)
Creator:

Judi Fennell

Language:en
Identifier:MOBI-ASIN:B07RJNWYDB
Publisher:

Mergenie Books

Date:2019-06-09T16:00:00+00:00
Subject:lantern,sitcoms,humor,emeralds,middle east,romance,arabic,adventure,gems,bracelets,Arabia,Sahara,magical,rubies,persia,cartoon,persian,gemstones,Genies,morocco harem,bottled,dreams,Larry Hagman,crazy,action,romcom,gold,1960s television,sultan,contemporary,Barbara Eden,comical,sapphires,zany,Elizabeth Montgomery,wishes,desert,diamonds,animals,tent
File Size:484.730 KB
Table of Content
1. I Dream of Genies, Copyright 2011 Judi Fennell
2. Books By Judi Fennell

Chapter 1
Chapter 2
Chapter 3
Chapter 4
Chapter 5
Chapter 6
Chapter 7
Chapter 8
Chapter 9
Chapter 10
Chapter 11
Chapter 12
Chapter 13
Chapter 14
Chapter 15
Chapter 16
Chapter 17
Chapter 18
Chapter 19
Chapter 20
Chapter 21
Chapter 22
Chapter 23
Chapter 24
Chapter 25
Chapter 26
Chapter 27
Chapter 28
Chapter 29
Chapter 30
Chapter 31
Chapter 32
Chapter 33
Chapter 34
Chapter 35
Chapter 36
Chapter 37
Chapter 38
Chapter 39
Chapter 40
Chapter 41
Chapter 42
Chapter 43
Chapter 44
Chapter 45
Chapter 46
Chapter 47
Chapter 48
Chapter 49
Epilogue

3. Thank you!
4. Genie Knows Best, Copyright 2011 Judi Fennell

Every wish comes with complications…
Chapter 1

5. Author's Note
6. More to Read by Judi Fennell
7. Here's Judi!