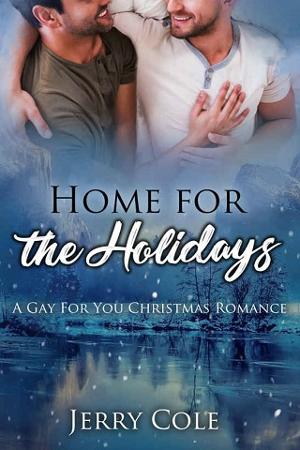 Max Diaz doesn't want to go home for Christmas. He's sure that the moment that he arrives his family is going to tell him just how disappointed they are in him.
He can't blame them. They're right. He's an abject failure. Even after trying to make it in the city for almost a decade, he still has no steady gigs as an actor and now that he has broken up with his ex-girlfriend—if she can even be called that—he has nowhere to live and no one to pay his bills.
Max worries that he might not be able to come back to the city when he goes home if his parents realize just how much he's struggling. They have never supported his career as an actor and now he's just going to prove them right.
Sitting there in the airport, dreading what's going to come next, something completely unexpected happens. Max runs into Jason Mayes, his childhood best friend.
The same guy who went on to become a teenage frenemy.
The very same Jason Mayes that Max is still moderately sure he's in love with. Of course, Jason wants nothing to do with him. Max knows that he was awful to him when they were kids and he knows that there's very little he can do to apologize for what he did. But when all flights are grounded and Jason decides to talk to him, all bets are off and the scales start to fall from Max's eyes.
Will Max be able to convince Jason that he means it when he's apologizing? Will Jason be able to let go of one more egregious offense after he attempts to forgive him?
Maybe their long-lasting relationship will end with a tryst in the bathroom of an overcrowded airport. But not if Max can help it. He doesn't like men—he doesn't think—but with Jason, everything is different. And he will do anything it takes to prove to him that he has changed.
Book Details
File Namehome-for-the-holidays-by-jerry-cole.epub
Original TitleHome for the Holidays: A Gay For You Christmas Romance
Creator

Jerry Cole

Languageen
IdentifierMOBI-ASIN:B078HCCJ3Y
Date2017-12-18T00:00:00+00:00
File Size230.524 KB
Table of Content
1. Table of Contents
2. Chapter One
3. Chapter Two
4. Chapter Three
5. Chapter Four
6. Chapter Five
7. Chapter Six
8. Chapter Seven
9. Chapter Eight
10. Chapter Nine
11. Chapter Ten
12. Chapter Eleven
13. Epilogue: Five Years Later
14. Authors Note
15. Books by Jerry Cole