His Purrfect Valentine by Lola Kidd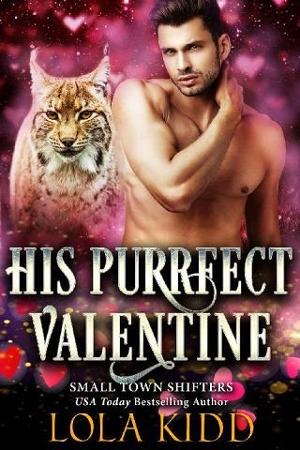 A last minute job brings shifter Diego Carvello face-to-face with the most beautiful woman he's ever seen, Shelby. She also happens to be the most insufferable, argumentative, and hard to please woman he's ever met. The only reason he can stand being in the same room as her is that he's getting paid.
Much to his horror, his animal has very different feeling about Shelby. It is instantly won over by her beauty and fiery attitude. The lynx is convinced that he should make a move on her. Something his human side refuses to do. It's not going to happen. Ever.
Shelby Obbink is one of the most popular reality stars on social media. She's headlining a singles conference in Celebration Valentine's week and is feeling on top of the world. Until her security for the week turns up. She sends three different bodyguards packing when they don't meet her standards. Then, Diego shows up. He refuses to be sent away. With time running short, Shelby decides to let him stay.
The more time they spend together, the more his lynx insists that Shelby could be The One. But Diego refuses to accept someone like her could be his mate. Can he and his animal come to some agreement or will he let Shelby walk out of their life this Valentine's Day?
File Name:his-purrfect-valentine-by-lola-kidd.epub
Original Title:His Purrfect Valentine (Small Town Shifters: Celebration Book 2)
Creator:

Lola Kidd

Language:en
Identifier:MOBI-ASIN:B084SWW321
Date:2020-02-12T16:00:00+00:00
File Size:157.605 KB
Table of Content
1. Chapter One
2. Chapter Two
3. Chapter Three
4. Chapter Four
5. Chapter Five
6. Chapter Six
7. Chapter Seven
8. Chapter Eight
9. Chapter Nine
10. Chapter Ten
11. Chapter Eleven
12. Chapter Twelve
13. Chapter Thirteen
14. Chapter Fourteen
15. Chapter Fifteen
16. Chapter Sixteen
17. Epilogue
18. A Note from Lola
19. Other Books by Lola Kidd