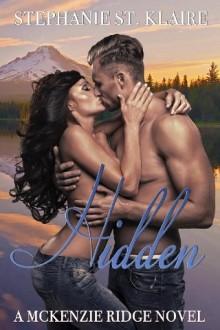 Firefighter Colton Sparks is beautiful, brawny, and lonely? Colton, a die-hard romantic, is looking for a Hallmark worthy happily ever after, but finding Mrs. Right has been as fruitful as playing the lottery. It's no secret that he dreams of white picket fences, finding love, and having a family. He has the white picket fence, he just needs her.
He's every woman's dream; they just aren't his. A total man's man with testosterone driven tendencies smothered in a tough guy exterior, he has a soft spot…animals. He understands being the one nobody wants, so he rescues animals that aren't perfect to the rest of the world.
When a beautiful woman comes to town, he thinks he has found her. Megan Johnson is stunning with a regal quality that doesn't live in small mountain towns, and a mystery that has him intrigued. She also happens to be his neighbor.
Megan thought McKenzie Ridge was the perfect place to settle, for now. It was polar opposite of the glamorous life she abruptly abandoned. Small town living was anything but simple, it was damn hard! Gone were her days of fancy make up, and designer clothes, here were the days of flannel, fur lined boots, and becoming Megan Johnson.
Things start to heat up, and fall into place with the handsome firefighter next door, when her past flashes its depraved and wrathful face. Can she stay in McKenzie and fight her demons, or will her secrets leave her alone and on the run?
Is there a happily ever for Colton and Megan, or is love a deadly game of chance?
Book Details
File Namehidden-a-mckenzie-ridge-novel-2-by-stephanie-st-klaire.epub
Original TitleHidden (A McKenzie Ridge Novel Book 2)
Creator

Stephanie St. Klaire

Languageen
IdentifierMOBI-ASIN:B01GDYSEI6
Date2016-06-29T18:30:00+00:00
File Size269.961 KB
Table of Content
1. ACKNOWLEDGEMENTS
2. CHAPTER 1
3. CHAPTER 2
4. CHAPTER 3
5. CHAPTER 4
6. CHAPTER 5
7. CHAPTER 6
8. CHAPTER 7
9. CHAPTER 8
10. CHAPTER 9
11. CHAPTER 10
12. CHAPTER 11
13. CHAPTER 12
14. CHAPTER 13
15. CHAPTER 14
16. CHAPTER 15
17. CHAPTER 16
18. CHAPTER 17
19. CHAPTER 18
20. CHAPTER 19
21. CHAPTER 20
22. CHAPTER 21
23. CHAPTER 22
24. CHAPTER 23
25. CHAPTER 24
26. CHAPTER 25
27. CHAPTER 26
28. CHAPTER 27
29. CHAPTER 28
30. CHAPTER 29
31. CHAPTER 30
32. CHAPTER 31
33. CHAPTER 32
34. CHAPTER 33
35. OTHER BOOKS BY STEPHANIE ST. KLAIRE
36. ABOUT STEPHANIE ST. KLAIRE
Read Online(Swipe version)