Hate Me Like You Do by A.K. Koonce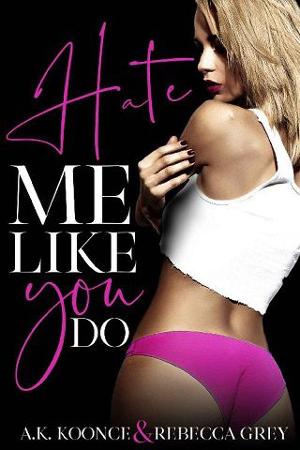 I've got it bad.
I'm attracted to not one but all three of my new roommates.
I thought senior year would be perfect with them in my new home and new school. It would be if I didn't have to listen to the endless train of women they bring home every night.
I'm stuck watching them have the time of their lives while I continue to be the good girl. That's me, Always Dependable Dee.
And I'm sick of it.
I should fight fire with fire, right?
Wrong.
One little mistake and my life is total hell. The rules of the house and the school are flipped upside down. My once best friends are now my worst enemies.
And I'm stuck living with them.
File Name:hate-me-like-you-do-by-a-k-koonce.epub
Original Title:Hate Me Like You Do: A Reverse Harem Bully Novel
Creator:

A.K. Koonce

Language:en
Identifier:MOBI-ASIN:B07WH836PQ
Date:2019-09-09T16:00:00+00:00
File Size:330.397 KB
Table of Content
1. Untitled
2. Copyright
3. Contents
4. I. Hate Me Like You Do

Chapter 1
Chapter 2
Chapter 3
Chapter 4
Chapter 5
Chapter 6
Chapter 7
Chapter 8
Chapter 9
Chapter 10
Chapter 11
Chapter 12
Chapter 13
Chapter 14
Chapter 15
Chapter 16
Chapter 17
Chapter 18
Chapter 19
Chapter 20

5. II. Love Me Like You Can't

Chapter 21
Chapter 22
Chapter 23
Chapter 24
Chapter 25
Chapter 26
Chapter 27
Chapter 28
Chapter 29
Chapter 30
Chapter 31
Chapter 32
Chapter 33
Chapter 34
Chapter 35
Chapter 36
Chapter 37
Chapter 38

6. Epilogue
7. Also by A.K. Koonce
8. About A.K. Koonce
9. About Rebecca Grey