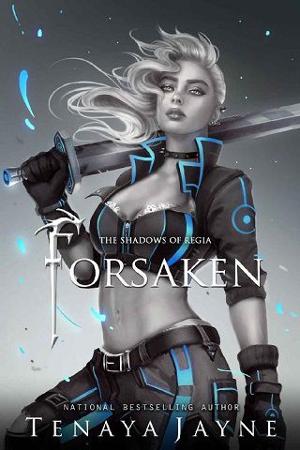 How far would you go to change your fate?
The moment I made eye contact with Tristan, Destiny bound our souls together. No way was I going to live my life tied to that murdering rapist. So, I killed him. But even beyond the grave, his ghost haunts me. No one has ever seen Destiny, but I will have no peace until I track her down and make her answer for what she did to me.
Everyone thinks it's impossible and I'm crazy, maybe I am. Chasing a myth with little more than a hunch where to look, jumping through other worlds, and facing dangers I can't even name. Every day I have to be ready to pay the ultimate price. I'll cut down anyone in my way. I won't stop. I won't slow down. There's nothing I won't do to take back my life and chart my own destiny.
There's nothing I won't sacrifice…except Rhain. I love him more than my own life, but happily ever after could be the real task that proves impossible.
File Name:forsaken-by-tenaya-jayne.epub
Original Title:Forsaken (The Shadows of Regia Book 3)
Creator:

Tenaya Jayne

Language:en
Identifier:MOBI-ASIN:B07R3HCP55
Publisher:

Cold Fire Publishing, LLC

Date:2019-04-23T16:00:00+00:00
File Size:320.126 KB
Table of Content
1. Characters from
2. Prologue
3. One
4. Two
5. Three
6. Four
7. Five
8. Six
9. Seven
10. Eight
11. Nine
12. Ten
13. Eleven
14. Twelve
15. Thirteen
16. Fourteen
17. Fifteen
18. Sixteen
19. Seventeen
20. Eighteen
21. Nineteen
22. Twenty
23. Twenty One
24. Twenty two
25. Twenty three
26. Twenty four
27. Epilogue
28. The End
29. ABOUT THE AUTHOR