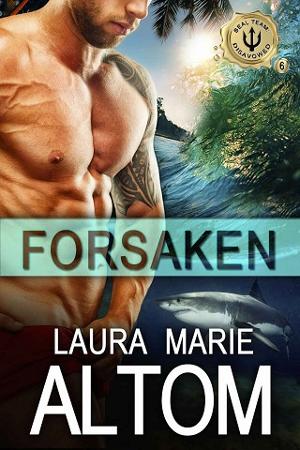 SHARKS. EVERYWHERE. SO MUCH BLOOD . . .
Three years earlier when former Navy SEAL Briggs Denton had a vacation fling with a hottie Turks and Caicos shop owner, he never dreamed they'd meet again–only not as a couple, but targets.
Her desperate call for help leads him into troubled tropical waters swarming with man-eating beasts and gun-toting modern-day pirates. A dark family secret could lead to untold riches or their watery graves. Will Briggs keep them alive long enough to discover who wants them dead?
**************************************
SEAL Team: Disavowed
To become a United States Navy SEAL, a man must be physically forged in steel and able to mentally compute life or death situations with laser accuracy and speed. Our country trusts these men with the most sensitive military operations—many so covert that once they are successfully completed, they are never spoken of again.
This series celebrates one particularly fierce band of brothers who valiantly battled terrorists whose crimes against nature and humanity were far too great to chance escape. On a dark night, on foreign soil, SEAL Team Alpha witnessed acts so unspeakably cruel against women, infants and small children that their consciences would not allow anything other than their own brand of justice for the scum terrorist cell.
A trial would have been too good for these pigs, and so, one-by-one they were taken out, and the women and children they'd used were freed. By dawn, an entire region breathed easier. The men of Alpha found themselves heroes to those whose lives they had saved, but virtual criminals in the eyes of the organization they served. After a lengthy investigation, their elite, covert team was formally disbanded.
They now spend their lives deep undercover, still serving—no longer their country, but individuals who find themselves in need of not only their own personal warrior, but a particular brand of justice.
While honorably discharged, these men and their actions will forever be disavowed . . .
Book Details
File Nameforsaken-by-laura-marie-altom.epub
Original TitleForsaken (SEAL Team: Disavowed Book 6)
Creator

Laura Marie Altom

Languageen
IdentifierMOBI-ASIN:B07217RLC9
Publisher

Fulton Court Press

Date2017-08-17T18:30:00+00:00
SubjectSEAL Team: Disavowed Book 6
File Size190.190 KB
Table of Content
1. Table of Contents
2. Title Page
3. SEAL Team: Disavowed
4. 1
5. 2
6. 3
7. 4
8. 5
9. 6
10. 7
11. 8
12. 9
13. 10
14. 11
15. 12
16. Epilogue
17. SCORNED Excerpt
18. Dear Reader
19. About the Author
20. Copyright