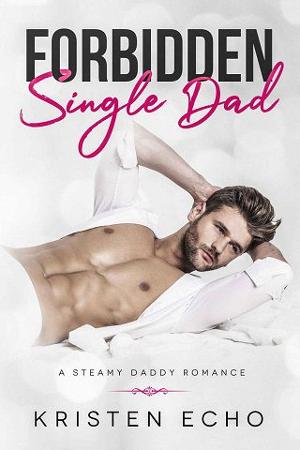 She doesn't want my billions; she wants my heart.
I did it again. I fell in love with a nanny.
As a single dad, I should have stayed away. I don't do relationships, but her smart mouth and alluring lips are too much to resist. She's everything I need. Breaking the rules to be together won't end well.
Our forbidden relationship will be blown wide open because she's having my baby.
Instead of bonding us together, I lost her. But not for long.
If she thinks she's going to be a single mom, she's wrong. They are mine. I will get them back no matter what it costs.
Book Details
File Nameforbidden-single-dad-by-kristen-echo.epub
Original TitleFORBIDDEN SINGLE DAD: A STEAMY DADDY ROMANCE
Creator

Echo, Kristen

Languageen
Identifier3552445743
Publisher

Kristen Publishing

Date2019-04-28
File Size319.100 KB
Table of Content
1. Title Page
2. Contents
3. Copyright
4. Chapter 1
5. Chapter 2
6. Chapter 3
7. Chapter 4
8. Chapter 5
9. Chapter 6
10. Chapter 7
11. Chapter 8
12. Chapter 9
13. Chapter 10
14. Chapter 11
15. Chapter 12
16. Chapter 13
17. Chapter 14
18. Chapter 15
19. Chapter 16
20. Chapter 17
21. Chapter 18
22. Chapter 19
23. Chapter 20
24. Chapter 21
25. Chapter 22
26. Chapter 23
27. Epilogue
28. Author Note
29. Sneak Peek
30. About the Author
31. Other Books By Kristen Echo:
32. Acknowledgments