Fern's Decision by Bea Paige
no ratings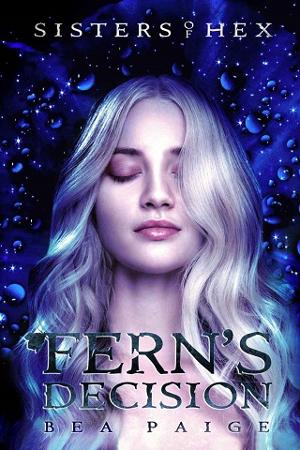 Death is a lonely place, silent, or so everyone thinks…
Fern is no stranger to death, or the singing that accompanies it. She has always known when a person is about to die, for the singing foretells it. Her mother passed it off as an oddity never to be discussed, so she learned to tune out the voices until they disappeared for good. Or so she thought.
Then one day, as she fights to bring back a dying baby in the hospital where she works, Fern hears the familiar melody once more. Except this time the voice belongs to a man with ice-blue eyes and black angel wings. As the baby takes its final breath, the angel sings his last note. For this isn't an angel who gives life, it is one that takes it.
One year has passed since that encounter, and just when Fern is beginning to believe it had all been an illusion, the angel returns, and this time he's not alone. For now there are three Angels of Death and Fern appears to be their next victim.
***TRIGGER WARNING – This book contains content that some may find triggering***
File Name:ferns-decision-by-bea-paige.epub
Original Title:Fern's Decision: A reverse harem novel (Sisters of Hex: Fern Book 1)
Creator:

Bea Paige

Language:en
Identifier:MOBI-ASIN:B079P7CT7T
Date:2018-05-01T16:00:00+00:00
File Size:716.970 KB
Table of Content
1. Fern's Decision
2. Copyright
3. Fern's Decision
4. Contents
5. Other books by Bea Paige:
6. Books by Kelly Stock
7. Dedication
8. The Prophecy
9. Prologue
10. Chapter 1
11. Chapter 2
12. Chapter 3
13. Chapter 4
14. Chapter 5
15. Chapter 6
16. Chapter 7
17. Chapter 8
18. Chapter 9
19. Chapter 10
20. Chapter 11
21. Chapter 12
22. Chapter 13
23. Chapter 14
24. Chapter 15
25. Chapter 16
26. Chapter 17
27. Chapter 18
28. Chapter 19
29. Chapter 20
30. Chapter 21
31. Chapter 22
32. Epilogue
33. Accacia's Curse
34. Prologue
35. Chapter One
36. Author's Note