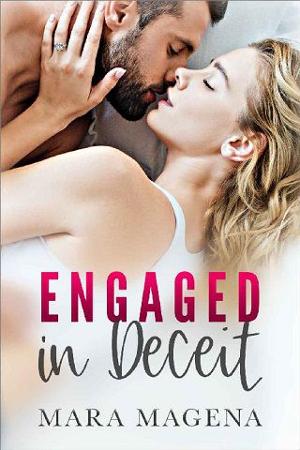 "It didn't feel fake when your divine lips made my body tingle."
I didn't ask for the agony heaped upon me in one devastating training session. As a former all-star baseball player, Adrian opened a gym for badass athletes only, but the savage trainer was more than excited to pummel me into a sweaty mess.
I didn't ask to be his fake fiance as part of a daring scheme to fool an investor. But he's paying me 20 grand, a rock-solid investment in his brazen mind.
Finally, neither of us asked to be tempted by the intoxication of love. Both of us embraced our fulfilling careers as the secure, no risk prize. As the new fool in town, I didn't need the pain of another toxic relationship. Adrian had no interest in repeating the nightmare from his horrific past.
Sometimes, life doesn't care what you asked for.
Book Details
File Nameengaged-in-deceit-by-mara-magena.epub
Original TitleEngaged in Deceit
Creator

Mara Magena

Languageen
IdentifierMOBI-ASIN:B07W7921CT
Date2019-08-09T16:00:00+00:00
Subjectsmall town romance,fake relationship,contemporary romance,Sports Romance
File Size195.115 KB
Table of Content
1. Engaged in Deceit
2. Hannah
3. Adrian
4. Hannah
5. Adrian
6. Hannah
7. Adrian
8. Hannah
9. Hannah
10. Adrian
11. Adrian
12. Hannah
13. Adrian
14. Hannah
15. Adrian
16. Hannah
17. Adrian
18. Hannah
19. Adrian
20. Hannah
21. Hannah
22. Epilogue
23. Get Your FREE Extended Epilogue