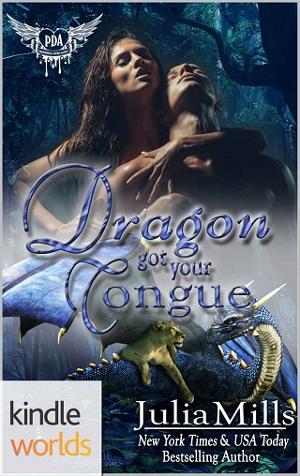 Take one fed-up Queen of the lions, add one foolhardy Dragon Guardsman then mix-in the wildest matchmaker in the universe and you've got a rollercoaster ride of mayhem, mischief and mate-trimony.
Savannah's tried everything to find the mate she's meant to spend her life with and quite frankly, she'd rather be declawed than meet another crazy male cat.
Hayes' clan is full of lovebirds instead of dragons and be honest, he's disgusted by the whole damn thing.
But Fate won't be denied…right?
When her Pride is threatened and his Clan is called in to help, there'll be more than flying fur and soaring scales.
This Queen has met her match and she'll get no say in the matter.
After all, her Dragon's got her Tongue…
This book contains explicit sexual material and violence. It is only suited for mature readers 18 years of age and older.
Book Details
File Namedragon-got-your-tongue-by-julia-mills.epub
Original TitleParanormal Dating Agency: Dragon Got Your Tongue (Kindle Worlds Novella) (Dragon Guard Series Book 24)
Creator

Julia Mills

Languageen
IdentifierMOBI-ASIN:B075CWBTPW
Publisher

Kindle Worlds

Date2017-09-02T18:30:00+00:00
File Size173.943 KB