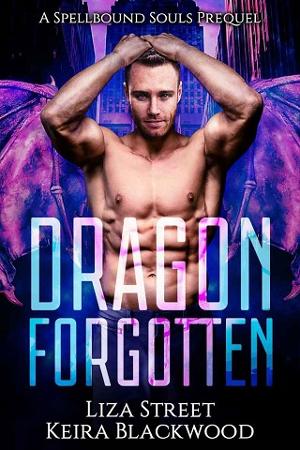 I used to be a soldier—but now I have no future.
Fighting for my country used to give me purpose. After my tour of duty ends, so does that sense of fulfillment.
I'm lost until the dreams start—dreams of the life I truly desire. In the night, I'm treated to visions of a beautiful woman who I share with two other men. These fantasies feel more real than my waking life. I'm completely captivated, utterly in love with a woman I've never met.
There is hope for my future, now—all I have to do is claim her.
Book Details
File Namedragon-forgotten-by-kiera-blackwood.epub
Original Title[para] spellbound souls 00.5 - dragon forgotten
Creator

Keira Blackwood

Languageen
Identifieruuid:e1d61844-cef1-4164-802f-7a2ec203ef80
Date2018-07-04T04:00:00+00:00
File Size239.354 KB
Table of Content
1. Title Page
2. Contents
3. Copyright
4. Introduction
5. Chapter One
6. Chapter Two
7. Chapter Three
8. Chapter Four
9. Chapter Five
10. The Spellbound Souls Trilogy
11. About the Author
12. About the Author