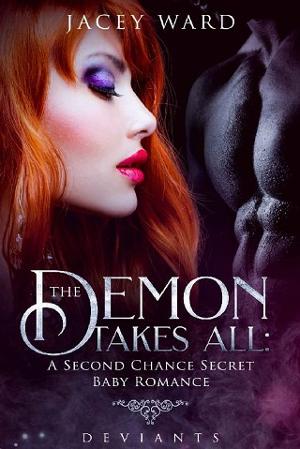 She's the best thief around. Getting caught is not an option.One night of scorching-hot passion.One empty promise that he would return in a week.That's all Arya had left to remind her of the demon lord who walked away from her that morning – and never came back. Well, that, and her daughter, Jasmine. The beautiful child, born into two Deviant worlds. The two halves of her little soul were fighting for dominance – she wouldn't live much longer without a powerful talisman.But the only person with an artifact powerful enough to help her little girl, is Dante – the child's cruel and heartless father, who had abandoned Arya after their night of passion, offering false promises and touching endearments that turned out to be lies.
But it doesn't matter, because Arya is the most talented thief in the sorceress world – and she's going to steal the Chasm of Guile. Right. Out. From. Under. Him. Screw him. And he'll never know. About the talisman or his daughter.The rumors flying about Dante say that he's a vicious enemy to have…She'll do anything in her power to protect her daughter – including keeping her little girl's existence a secret from her coldhearted demon father.She just can't get caught…
Book Details
File Namedemon-takes-all-by-jacey-ward.epub
Original TitleDEMON TAKES ALL: An Enemies to Lovers, Secret Baby, Second Chance Romance
Creator

Jacey Ward

Languageen
IdentifierMOBI-ASIN:B07FFT88M1
Publisher

Jacey Ward

Date2018-09-03T16:00:00+00:00
File Size270.104 KB
Table of Content
1. Prologue -Three Years Ago
2. Chapter 1 - Present Day
3. Chapter 2
4. Chapter 3
5. Chapter 4
6. Chapter 5
7. Chapter 6
8. Chapter 7
9. Chapter 8
10. Chapter 9
11. Chapter 10
12. Chapter 11
13. Chapter 12
14. Chapter 13
15. The BAD BOYS books...