Deception by Alison Mello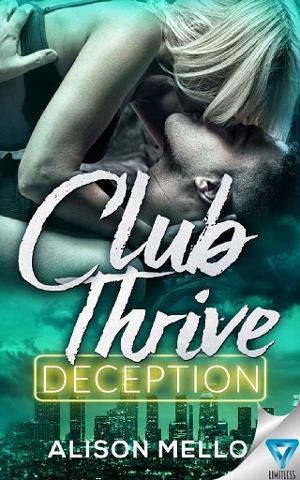 Kara
I should start trusting my gut instincts more often. Maybe then I wouldn't have wasted so much time on Noah, the lying SOB who had the honor of calling himself my boyfriend for way too long.Now I no longer have to feel guilty about sneaking stolen glances at Club Thrive's family bodyguard. Slade manages to make my body react in the most sinful ways just by being near me, and now that I'm fair game…I'm starting to suspect he might feel the same way.
Slade
I've been hired to protect the Club Thrive family, and that includes protecting Kara from low-life scumbags like her ex-boyfriend. Unfortunately, I don't think this is the last we've seen of Noah. He's got bad news stamped all over his forehead, and if my instincts are anything to go by, he's not going to let Kara go that easily.But I've waited too damn long for the chance to make Kara mine. Nothing and no one will stop me from keeping her safe…not even the Devil himself.
Book Details
File Namedeception-by-alison-mello.epub
Original TitleClub Thrive: Deception (The Club Thrive Series Book 3)
Creator

Alison Mello

Languageen
IdentifierMOBI-ASIN:B075SGS6JL
Publisher

Limitless Publishing LLC

Date2017-10-02T16:00:00+00:00
File Size275.734 KB
Table of Content
1. Prologue
2. Chapter 1
3. Chapter 2
4. Chapter 3
5. Chapter 4
6. Chapter 5
7. Chapter 6
8. Chapter 7
9. Chapter 8
10. Chapter 9
11. Chapter 10
12. Chapter 11
13. Chapter 12
14. Chapter 13
15. Chapter 14
16. Chapter 15
17. Chapter 16
18. Chapter 17
19. Chapter 18
20. Chapter 19
21. Chapter 20
22. Chapter 21
23. Chapter 22
24. Epilogue
25. GET (5) FREE READS EVERY FRIDAY!