Crane by Esther E. Schmidt
no ratings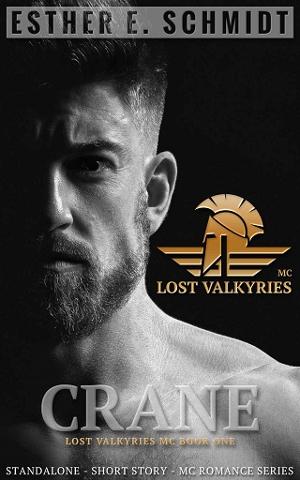 Faya – My eyes close and I brace for the pain. Except it doesn't come. It always comes. Wait for it my mind tells me, making me brace some more. I hate waiting for it, when that happens it's always so much worse.
Crane – The job was to prevent her from testifying. I've already been paid because my ass isn't moving before the cash is in place.
That's right, I have a spotless reputation. A hitman who gets the job done. Any job, any time. Once I've given my word, and the cash is exchanged, it's a done deal. No matter the consequences or obstacles, I will get it done. Something that the woman strapped to my back will find out firsthand.
File Name:crane-by-esther-e-schmidt.epub
Original Title:Crane: Lost Valkyries MC
Creator:

Esther E. Schmidt

Language:en
Identifier:MOBI-ASIN:B0755ZXXMR
Date:2017-08-25T18:30:00+00:00
File Size:111.079 KB
Table of Content
1. CHAPTER ONE
2. CHAPTER TWO
3. CHAPTER THREE
4. CHAPTER FOUR
5. CHAPTER FIVE
6. CHAPTER SIX
7. CHAPTER SEVEN
8. CHAPTER EIGHT
9. CHAPTER NINE
10. CHAPTER TEN
11. EPILOGUE SIX MONTH LATER