Color Me Yours by Jen Talty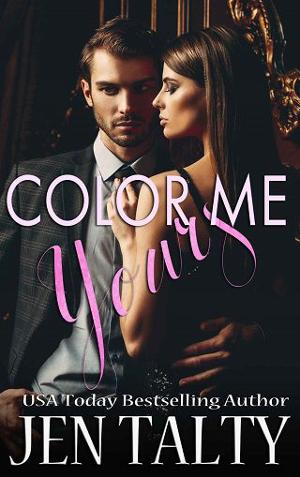 Kennedy Monroe lost her boyfriend to her best friend. Or maybe her best friend to her boyfriend. It didn't matter. All she had left was her job, and she'd be damned if she was going to lose that too. So when her boss asks her for a favor, she's not about to say no.
Except, she didn't know the favor included pretending to be his girlfriend in front of his parents.
Hawk Jefferson was tired of his parents constantly trying to marry him off to their rich friends' daughters. He was nearly forty years old, and he was more than happy to spend the rest of his life as a bachelor. The last thing he wanted was a wife and a bunch of babies. In order to keep them off his back, he told them he'd been dating his assistant for the last six months. So, when they decided to take a last-minute trip to spend the weekend with him and his girlfriend, Hawk had to take drastic measures.
Except, he never anticipated he'd fall in love, much less want to settle down and give his parents the grandchild they've always wanted.
Only, getting Kennedy on board with that plan seems to be harder than anticipated.
File Name:color-me-yours-by-jen-talty.epub
Original Title:Color Me Yours
Creator:

Talty, Jen

Language:en
Identifier:3436569364
Publisher:

Jupiter Press

Date:2020-01-17
File Size:319.842 KB
Table of Content
1. Title Page
2. Copyright
3. Contents
4. Praise for Jen Talty
5. Book Description
6. Prologue
7. Chapter 1
8. Chapter 2
9. Chapter 3
10. Chapter 4
11. Chapter 5
12. Chapter 6
13. Chapter 7
14. Chapter 8
15. Epilogue
16. About the Author
17. Also by Jen Talty