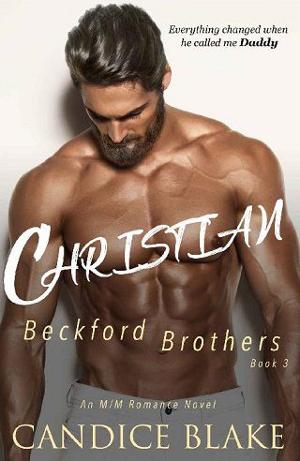 Christian: He was the boy next door and now he's my Boy.
I've run away from things my whole life. After living overseas for the past ten years to run away from my problems, I finally decided to come home. As the CEO of my own multi-million-dollar company, I don't have time to date and I don't do feelings either. But when I reconnect with Gage, the boy who once lived across the street from me, he stirs up a whole lot of feelings in me that I'd rather not deal with. Gage makes me reconsider everything I thought I knew about myself–including my sexuality. What happens when he starts calling me Daddy and wants me to commit? Will I run away from the uncomfortable feelings or will I finally stay for good?
Gage: Everything changed when I called him Daddy.
When I decide to move back home after finishing college, I didn't expect to cross paths with Christian, someone I hadn't seen in over a decade. Christian made me realize I was gay when I was thirteen and the feelings I had for him as a teenager are still there and stronger than ever. The thing is, Christian is so much older and more experienced than me while I'm still a virgin. He's out of my league and I'm afraid to let myself fall for someone so powerful and successful. Will I build up enough confidence to go for the man of my dreams?
Book Details
File Namechristian-by-candice-blake.epub
Original TitleCHRISTIAN (Beckford Brothers Book 3): An M/M Romance Novel
Creator

CANDICE BLAKE

Languageen
IdentifierMOBI-ASIN:B07TG8YF9C
Date2019-06-22T16:00:00+00:00
File Size239.715 KB
Table of Content
1. Table of Contents
2. Newsletter
3. Copyright
4. Also by Candice Blake
5. 1. Christian
6. 2. Gage
7. 3. Christian
8. 4. Gage
9. 5. Christian
10. 6. Gage
11. 7. Christian
12. 8. Gage
13. 9. Christian
14. 10. Gage
15. 11. Christian
16. 12. Gage
17. 13. Christian
18. 14. Gage
19. 15. Christian
20. 16. Gage
21. 17. Christian
22. 18. Gage
23. 19. Christian
24. 20. Gage
25. 21. Christian
26. 22. Gage
27. 23. Christian
28. 24. Gage
29. 25. Christian
30. Epilogue
31. Also by Candice Blake
32. Newsletter
33. About the Author