Charming Coco by Katie Graykowski
no ratings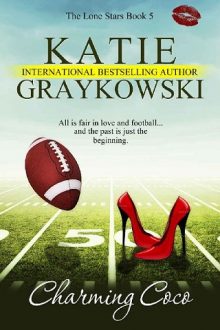 Coco Robbins has spent the last fifteen years falling out of love with Seth Charming. What started out as a schoolgirl crush, grew into a full-fledged fantasy. Too bad, he had no idea she even existed. Now as an orthopedic surgeon who's spent the last four years working with Doctors Without Borders, she ran halfway around the world to get away from Seth only to find herself right back where she started.
Seth Charming is the quarterback of the Super Bowl winning Texas Lone Stars. He has the world at his feet, several women at his side, and all the fame and fortune he could ever want. Only something's missing. He wants a family. Unfortunately, he has yet to meet the right woman.
When Coco Robbins strolls back into Seth's life, he knows immediately that she's the one he's been waiting for … only now he has to convince her that she's in love with him.
File Name:charming-coco-by-katie-graykowski.epub
Original Title:Charming Coco (The Lone Stars Book 5)
Creator:

Katie Graykowski

Language:en
Identifier:MOBI-ASIN:B01MS41UKX
Date:2017-04-18T16:00:00+00:00
Subject:football,Contemporary Romance,texas
File Size:208.802 KB
Table of Content
1. Prologue
2. Chapter 1
3. Chapter 2
4. Chapter 3
5. Chapter 4
6. Chapter 5
7. Chapter 6
8. Chapter 7
9. Chapter 8
10. Chapter 9
11. Chapter 10
12. Chapter 11
13. Chapter 12
14. Chapter 13
15. Chapter 14
16. Chapter 15
17. Chapter 16
18. Chapter 17
19. Chapter 18
20. Chapter 19
21. Chapter 20
22. Epilogue