Boyfrenemy by Sosie Frost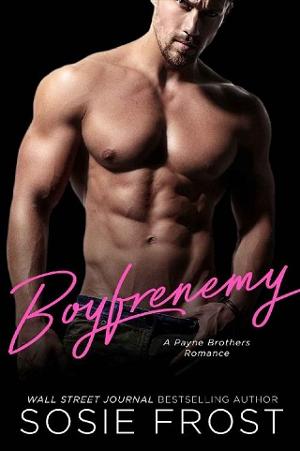 MICAH. Julian's the kind of sexy that demands a cigarette before sex.
He's the whip and the cream on top of my chocolate sundae.
Hell, he's the only man worth the fancy underwear in my panty drawer. But suddenly, the thong isn't the only pain in my ass.
He's rude. He's arrogant. And he's the single greatest threat to my job.
So, of course, I fell in love with my perfect enemy.
Accidentally getting pregnant was our first battle.
Now? It's all-out-war.
JULIAN. Micah's the sort of girl who breaks more balls than hearts.
No matter how perfect her ass, it's not worth the pain in mine.
Her smile might tighten my pants, but the woman's worse than the drought, pestilence, and ramble of weeds destroying my fields. Too bad she's the only one who can save my farm.
So, I made a deal with that devil.
…Then I knocked her up.
File Name:boyfrenemy-by-sosie-frost.epub
Original Title:Boyfrenemy: A Payne Brothers Romance
Creator:

Sosie Frost

Language:en
Identifier:MOBI-ASIN:B07BBLHGPK
Date:2018-03-07T16:00:00+00:00
File Size:883.993 KB
Table of Content
1. Chapter One
2. Chapter Two
3. Chapter Three
4. Chapter Four
5. Chapter Five
6. Chapter Six
7. Chapter Seven
8. Chapter Eight
9. Chapter Nine
10. Chapter Ten
11. Chapter Eleven
12. Chapter Twelve
13. Chapter Thirteen
14. Chapter Fourteen
15. Chapter Fifteen
16. Chapter Sixteen
17. Chapter Seventeen
18. Chapter Eighteen
19. Chapter Nineteen
20. Chapter Twenty
21. Chapter One
22. Chapter Two
23. Chapter Three
24. Chapter Four
25. Chapter Five
26. Chapter Six
27. Chapter Seven
28. Chapter Eight
29. Chapter Nine
30. Chapter Ten
31. Chapter Eleven
32. Chapter Twelve
33. Chapter Thirteen
34. Chapter Fourteen
35. Chapter Fifteen
36. Chapter Sixteen
37. Chapter Seventeen
38. Chapter Eighteen
39. Chapter Nineteen
40. Chapter Twenty
41. Chapter Twenty-One
42. Chapter Twenty-Two
43. Chapter Twenty-Three
44. Epilogue
45. Epilogue - Mandy