Blue's Boss by Candice Blake
no ratings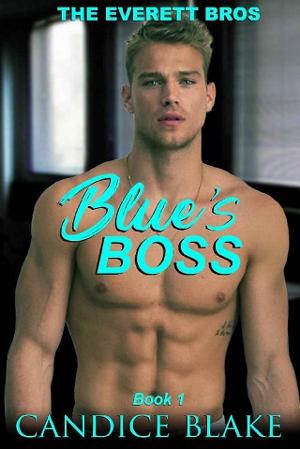 Blue: Ever have a crush on your boss?
After a bad break up with my ex-boyfriend, I've lost faith in men. Period. If that's not bad enough, I'm currently unemployed and sleeping on my brother's couch. When I finally land a job interview at the city's best marketing firm, I don't realize that the rugged and handsome man who helped me earlier is actually the CEO of the company…
Remember when I said I've lost faith in men? Well…one thing leads to another and I'm crushing hard on my boss. But I'm still struggling to let go of my past. Can I finally overcome what's holding me back and go for the man in the pinstriped suit who's way out of my league?
Hunter: I've built my company from the ground up and I'm not going to let a one-night stand ruin everything.
My life revolves around my multi-million dollar empire. That's until I hire Blue. I know I am straight. But Blue somehow steals away all my attention and makes me question everything I know about myself, especially my sexuality.
I've always been a private man who's strictly business. But keeping this secret relationship with Blue is not only killing me inside but my business as well. How much of my company am I willing to put on the line to explore this forbidden love affair?
File Name:blues-boss-by-candice-blake.epub
Original Title:Blue's Boss (The Everett Bros Book 1)
Creator:

CANDICE BLAKE

Language:en
Identifier:MOBI-ASIN:B07HQJ542H
Date:2018-09-25T16:00:00+00:00
File Size:235.797 KB
Table of Content
1. Table of Contents
2. Newsletter
3. Also by Candice Blake
4. Copyright
5. 1. Blue
6. 2. Hunter
7. 3. Blue
8. 4. Hunter
9. 5. Blue
10. 6. Hunter
11. 7. Blue
12. 8. Hunter
13. 9. Blue
14. 10. Hunter
15. 11. Blue
16. 12. Hunter
17. 13. Blue
18. 14. Hunter
19. 15. Blue
20. 16. Hunter
21. 17. Blue
22. 18. Hunter
23. 19. Blue
24. 20. Hunter
25. 21. Blue
26. 22. Hunter
27. 23. Blue
28. 24. Hunter
29. 25. Blue
30. 26. Hunter
31. Epilogue
32. Newsletter
33. About the Author
34. Also by Candice Blake