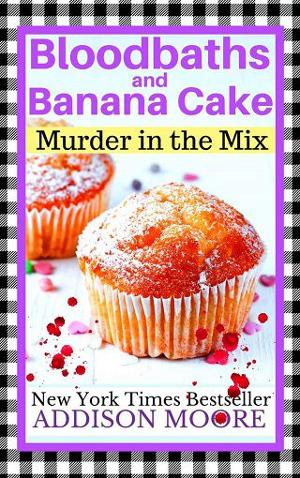 My name is Lottie Lemon and I see dead pets. On occasion I see a once-upon a human too but mostly it's just cute little furry beasts who have come back from the other side to warn me of their previous owners impending doom.
It turns out, everything I thought I knew about my relationship with the man of my dreams was a lie, so when I'm asked to cater sweet treats to a party honoring a very important judge, of course, I dive right in to get my mind off of things. But when I set up the dessert buffet and spot the ghost of a girl I was accused of killing just last month, I realize this night isn't going to go off without a homicide in its giddy-up. Try as I might to stop it, another murder strikes our community, and not only am I determined to solve this crime, but I'm determined to heal my broken heart, too. In both cases, it seems I've bitten off far more cookie than I can chew.
Lottie Lemon has a brand new bakery to tend to, a budding romance with perhaps one too many suitors, and she has the supernatural ability to see dead pets—which are always harbingers for ominous things to come. Throw in the occasional ghost of the human variety, a string of murders, and her insatiable thirst for justice, and you'll have more chaos than you know what to do with.
Living in the small town of Honey Hollow can be murder.
File Name:bloodbaths-and-banana-cake-by-addison-moore.epub
Original Title:Bloodbaths and Banana Cake (MURDER IN THE MIX Book 7)
Creator:

Addison Moore

Language:en
Identifier:MOBI-ASIN:B07KK2MFZD
Publisher:

Hollis Thatcher Press, LTD.

Date:2018-12-05T18:30:00+00:00
File Size:308.465 KB
Table of Content
1. Title Page
2. Contents
3. Copyright
4. Books by Addison Moore
5. Book Description
6. Chapter 1
7. Chapter 2
8. Chapter 3
9. Chapter 4
10. Chapter 5
11. Chapter 6
12. Chapter 7
13. Chapter 8
14. Chapter 9
15. Chapter 10
16. Chapter 11
17. Chapter 12
18. Chapter 13
19. Chapter 14
20. Chapter 15
21. Chapter 16
22. Chapter 17
23. Chapter 18
24. A Note from the Author
25. New York Cheesecake Chaos (Murder in the Mix 8) Preview
26. Books by Addison Moore
27. Acknowledgments
28. About the Author