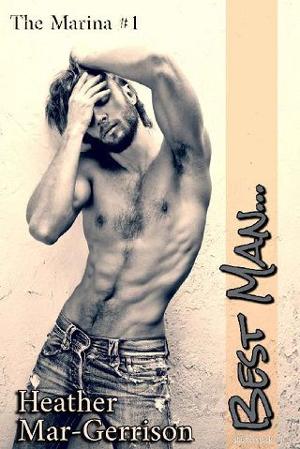 Kem and Houston have been friends forever but when Kem meets and starts dating Daniel, Houston realises exactly what Kem means to him and wishes he'd been more honest about his feelings for his best friend.
Kem has been in love with Houston for as long as he can remember, but without him around at university, he gets his head turned by the attractive and pretty relentless Daniel.
Daniel can't stand Houston and does everything possible to destroy their friendship with each other.
A family party and a friend's wedding throws Houston and Kem back together and they begin to realise that what they feel for each other is something pretty special.
Can they be honest with each other, and put the past behind them well enough to put their relationship back on track?
Book Details
File Namebest-man-by-heather-mar-gerrison.epub
Original TitleBest Man... (The Marina Book 1)
Creator

Heather Mar-Gerrison

Languageen
IdentifierMOBI-ASIN:B07QNH67YJ
Date2019-05-30T16:00:00+00:00
File Size189.946 KB
Table of Content
1. Chapter 1 – My name is Bond…
2. Chapter 2 – Settling In…
3. Chapter 3 – Jealousy and heartbreak…
4. Chapter 4 – Like losing a limb....
5. Chapter 5 – Seth's birthday…
6. Chapter 6 – Austin's news…
7. Chapter 7 – The Party…
8. Chapter 8 – Full steam ahead…
9. Chapter 9 – Deliberations…
10. Chapter 10 – Like nothing happened…
11. Chapter 11 – Ignorance is most certainly not bliss…
12. Chapter 12 – Dad's birthday…
13. Chapter 13 – New Arrival…
14. Chapter 14 – Be Mine…
15. Chapter 15 – Always…
16. Chapter 16 – Charades…
17. Chapter 17 – Web of lies…
18. Chapter 18 – Fender-Bond…
19. Chapter 19 – Ando's magical wedding…
20. Chapter 20 – Maybe this wasn't the best idea…
21. Chapter 21 – Daniel's warning…
22. Chapter 22 – Where did it all go wrong…?
23. Chapter 23 – Just a really great friend…
24. Chapter 24 – The Second Wedding…
25. Chapter 25 – Better late than never…
26. Chapter 26 – "Stop the wedding…I object!"
27. Chapter 27 – Mortified…
28. Chapter 28 – Apologies and Arguments…
29. Chapter 29 – The third wedding…
30. Chapter 30 – I will…
31. Chapter 31 – Venice…
32. Chapter I – Explorer Camp…
33. Chapter II – Dick move…