Beautiful Savage by Victoria Ashley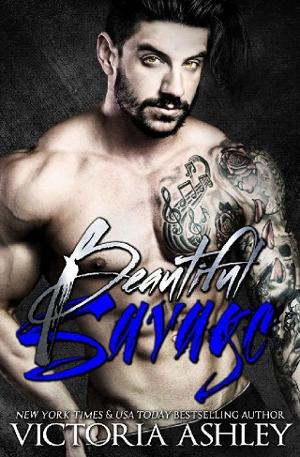 JAXON KADE:
I can't breathe… I don't want to. With every breath that fills my lungs, I feel the pain she's fighting and it's killing me slowly, reminding me of the day she got ripped away.
I've gone thirteen years without her, and as if she was never gone, she walks back into my life, feisty as [email protected] and set on running from me.
I refuse to let that happen.
She's my Lex. It doesn't matter if I have to destroy everything in my path that leads to her—I will.
I've been in love with her since the age of nine. I lost her once, and you better [email protected] well believe that I will walk through the fires of Hell before losing her again.
She's broken…
Ripped apart by the world. I'm making it my mission to piece her back together again and claim her as mine.
Every part of her sexy body has been possessed by me.
I know she sees she's not the only one who has changed with time. I'm rough, savage, and just as damaged as she is.
But there's one thing I'm capable of—always have been—and that is loving her.
I promise to do everything in my power to show her, no matter what it takes or how much it hurts.
ALEXANDRA ADAMS:
I never thought I'd lay eyes on Jax Kade again, and the moment I realized the rough, edgy man I allowed to take me home and have rough sex with me was him… my world came crashing down around me.
I'm no good for him.
Not for the sweet, protective Jax that took care of me back when no one else would.
I'm damaged, unrepairable…
I need medicine to escape this reality—the pills, [email protected], and liquor aren't even enough to numb the pain of my past.
Years without Jax destroyed me—ruined me forever—and being back in his life will only ruin him the same.
I could never do that to my beautiful Jax. I never meant to find him, and I sure as hell never meant to want him again as much as I did before we were ripped apart.
It doesn't matter that I need to stay away from him. It doesn't matter that I fight to keep my distance. Jax refuses to let me go.
He doesn't care how messed up I am. My biggest fear is destroying the only person I've ever been capable of loving, but he's not giving me any other choice…
Book Details
File Namebeautiful-savage-by-victoria-ashley.epub
Original TitleBeautiful Savage (Savage & Ink Book 2)
Creator

Victoria Ashley

Languageen
IdentifierMOBI-ASIN:B07CZ76SWR
Publisher

Victoria Ashley

Date2018-05-20T18:30:00+00:00
SubjectBeautiful Savage
File Size553.800 KB
Table of Content
1. Beautiful Savage
2. Table of Contents
3. Prologue
4. Chapter One
5. Chapter Two
6. Chapter Three
7. Chapter Four
8. Chapter Five
9. Chapter Six
10. Chapter Seven
11. Chapter Eight
12. Chapter Nine
13. Chapter Ten
14. Chapter Eleven
15. Chapter Twelve
16. Chapter Thirteen
17. Chapter Fourteen
18. Chapter Fifteen
19. Chapter Sixteen
20. Chapter Seventeen
21. Chapter Eighteen
22. Chapter Nineteen
23. Chapter Twenty
24. Chapter Twenty-One
25. Chapter Twenty-Two
26. Chapter Twenty-Three
27. Chapter Twenty-Four
28. Chapter Twenty-Five
29. Chapter Twenty-Six
30. Chapter Twenty-Seven
31. Chapter Twenty-Eight
32. Chapter Twenty-Nine
33. Chapter Thirty
34. Chapter Thirty-One
35. Epilogue
36. About the Author
37. Books by Victoria Ashley
38. Acknowledgements