Alien Fiancé by Luna Kingsley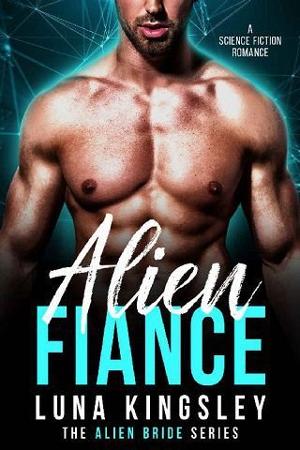 Ida isn't that different from all of the other girls at the bridal facility, but she'll do anything to stand out of the crowd. The same mundane existence day after day is enough to drive her crazy. So when a Scaahni alien buys her and sends for her, she wants to be excited. Except he doesn't seem to care who his bride is as long as he has one.
Zohled is too busy for love. He knows the perpetuation of their species is a top priority, in addition to making sure the villagers have enough food to make it through the winter. Ida is an unexpected distraction from the moment he lays his eyes on her soft features and smooth curves. After one look, he knows she's the one he wants. He struggles to find a balance between his duties to his kingdom and to his new wife.
Ida wants excitement and adventure, so she can forget about the secret she hides. Zohled wants to make her happy, but he has the survival of all the villagers to think about as well. Opposites attract, but are their differences too great for them to overcome? Will these two strangers discover they have more in common than their passion in the bedroom?
File Name:alien-fiance-by-luna-kingsley.epub
Original Title:Alien Fiancé: Alien Bride Series
Creator:

Luna Kingsley

Language:en
Identifier:MOBI-ASIN:B0849VRN6D
Publisher:

B&N Publishing

Date:2020-02-22T16:00:00+00:00
File Size:519.004 KB
Table of Content
1. Title Page
2. Copyright
3. Contents
4. Chapter 1
5. Chapter 2
6. Chapter 3
7. Chapter 4
8. Chapter 5
9. Chapter 6
10. Chapter 7
11. Chapter 8
12. Chapter 9
13. Chapter 10
14. Chapter 11
15. Chapter 12
16. Chapter 13
17. Chapter 14
18. Chapter 15
19. Chapter 16
20. Chapter 17
21. Chapter 18
22. Chapter 19
23. Chapter 20
24. Chapter 21
25. Chapter 22
26. Chapter 23
27. Chapter 24
28. Chapter 25
29. Chapter 26
30. Chapter 27
31. Chapter 28
32. Chapter 29
33. Epilogue
34. Also by Luna Kingsley
35. About the Author