Against All Odds by Tracie Delaney
no ratings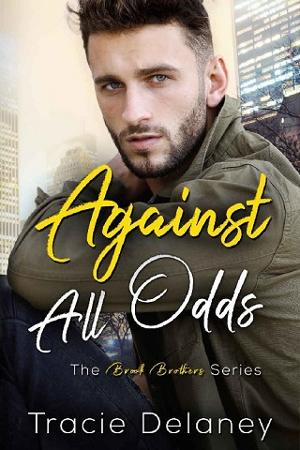 She's trouble—with a capital T. Not that it matters. If she wants a war, she'll get one.
Calum Brook is happy with his lot until Laurella Ricci, a smart, sassy know-it-all bursts into his perfect life and blows it apart.
Sure, he's territorial. He's earned the right to be. This pretender might think she has the upper hand, but he will come out the victor.
Laurella has spent the last six years clawing her way up the corporate ladder. Her latest challenge is exactly what she needs to forget her past, and Calum Brook, with his runway-model good looks and hostile attitude isn't going to chase her away.
She's survived worse than him… a lot worse. She'll weather this storm too.
Let the battle commence!
File Name:against-all-odds-by-tracie-delaney.epub
Original Title:Against All Odds (A Brook Brothers Novel Book 2)
Creator:

Tracie Delaney

Language:en
Identifier:MOBI-ASIN:B07FL9WDJK
Publisher:

Firefly Publishing Limited

Date:2018-10-09T16:00:00+00:00
File Size:334.651 KB
Table of Content
1. Title Page
2. Contents
3. Copyright
4. Newsletter Sign Up
5. Books by Tracie Delaney
6. Chapter 1
7. Chapter 2
8. Chapter 3
9. Chapter 4
10. Chapter 5
11. Chapter 6
12. Chapter 7
13. Chapter 8
14. Chapter 9
15. Chapter 10
16. Chapter 11
17. Chapter 12
18. Chapter 13
19. Chapter 14
20. Chapter 15
21. Chapter 16
22. Chapter 17
23. Chapter 18
24. Chapter 19
25. Chapter 20
26. Chapter 21
27. Chapter 22
28. Chapter 23
29. Chapter 24
30. Chapter 25
31. Chapter 26
32. Chapter 27
33. Chapter 28
34. Chapter 29
35. Chapter 30
36. Chapter 31
37. Chapter 32
38. Epilogue
39. FROM MY HEART
40. Books by Tracie Delaney
41. Newsletter Sign Up
42. Acknowledgments
43. About the Author