Accidentally in Love by C.J. Thomas
no ratings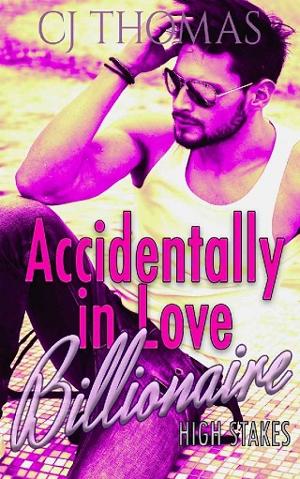 Billionaire Trevor Foster was the damaged war hero who stole my heart.
My life was on the line. I ran from one man and into the arms of another. Bleeding and broken, it happened faster than my mind could process. Our damaged selves were made for each other. But when I learned he had a secret of his own, I didn't know if we could survive.
Two wrongs never make a right.
He owed me nothing, but I had a responsibility to my family. They were the reason I doubted myself. It wasn't about me. It was about them. And this was something my father was never going to let me out of. Being the senator's daughter was never easy, but finding myself accidentally in love only days before my wedding was just asking for trouble.
File Name:accidentally-in-love-by-c-j-thomas.epub
Original Title:Accidentally in Love (High Stakes Billionaires Book 2)
Creator:

C.J. Thomas

Language:en
Identifier:MOBI-ASIN:B07DLBF97B
Publisher:

CJ Thomas Books

Date:2018-06-06T05:00:00+00:00
File Size:336.156 KB
Table of Content
1. Title Page
2. Copyright
3. About the Author
4. Accidentally in Love, Book Description
5. Contents
6. Chapter 1
7. Chapter 2
8. Chapter 3
9. Chapter 4
10. Chapter 5
11. Chapter 6
12. Chapter 7
13. Chapter 8
14. Chapter 9
15. Chapter 10
16. Chapter 11
17. Chapter 12
18. Chapter 13
19. Chapter 14
20. Chapter 15
21. Chapter 16
22. Chapter 17
23. Chapter 18
24. Chapter 19
25. Chapter 20
26. Chapter 21
27. Chapter 22
28. Chapter 23
29. Chapter 24
30. Chapter 25
31. Chapter 26
32. Chapter 27
33. Chapter 28
34. Chapter 29
35. Chapter 30
36. Chapter 31
37. Chapter 32
38. Chapter 33
39. Chapter 34
40. Chapter 35
41. Chapter 36
42. Chapter 37
43. Chapter 38
44. Chapter 39
45. Chapter 40
46. Afterword
47. Also by CJ Thomas
48. Acknowledgment