A Very Outlaw Christmas by T. S. Joyce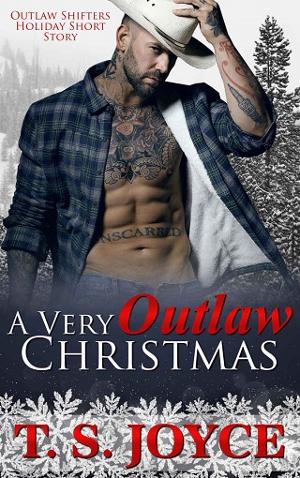 Outlaw grizzly shifter, Trigger Massey, has been on the naughty list most of his life, but things are different now. He's got a new mate, is in a race to save his ranch, and is the brand-new alpha of the Two Claws Clan. Add to that, his mate, Ava, has a serious problem with Christmas, and Trigger has his work cut out for him. This is his first Christmas as leader of his Clan, and he's taken it as a personal challenge to make it perfect. The only problem? Ava never wanted perfect.
Ava Dorset just needs to get through December, set up her business, save the ranch, and be the best mate she can be to Trigger. He's a big brawler, who raises his fists first and asks questions later. They're fresh out of a war with the local cougar clan and looking to stay on the straight-and-narrow until she can get their business off the ground, but the boys find trouble wherever they go and they're demolishing her plans.
All she needs to do is get their focus off the holiday, and back on saving the ranch, but the more Trigger works to get her holiday spirit back, the more she thinks perhaps December isn't so bad.
Book Details
File Namea-very-outlaw-christmas-by-t-s-joyce.epub
Original TitleA Very Outlaw Christmas (Outlaw Shifters Book 2)
Creator

T. S. Joyce

Languageen
Identifieruuid:37abd5c2-130b-4105-a73d-36952fc856ae
Publisher

Wicked Willow Press

Date2017-12-12T22:00:00+00:00
File Size482.199 KB
Table of Content
1. Other Books in this Series
2. Copyright
3. Chapter One
4. Chapter Two
5. Chapter Three
6. Chapter Four
7. Chapter Five
8. Chapter Six
9. Chapter Seven
10. Chapter Eight
11. Chapter Nine
12. Up Next in this Series
13. New Release Newsletter Sign-Up
14. More Series by T. S. Joyce
15. For More Series from this Author
16. About the Author