Without Limits – Austin (Rugged Riders #4) by Ambrielle Kirk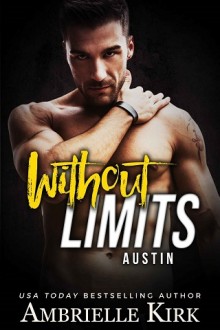 Austin Clark was my first date, my first love, and I thought he'd be my husband. But he chose his NASCAR career over me and then skipped town to join a racing team. I spent months drowning in sorrow about a relationship with Austin that could never be. Even Austin's best friend, Rick, felt jaded by his actions to leave everything behind. Together, we got over Austin and I married Rick. After all, life goes on.
Now nearly four years later and right after my devastating divorce from Rick, Austin Clark returns to town. To make matters worse, he's also the private investor who saved me at the last minute from having to sell my dress boutique. Once known as the poor kid from the opposite side of the tracks, Austin is retired from NASCAR and has become a wealthy business tycoon. The tables have certainly turned, which leads me to wonder if his return has everything to do with getting back at me for marrying his best friend and nothing to do with making amends.
File Name:without-limits-austin-rugged-riders-4-by-ambrielle-kirk.epub
Original Title:Without Limits: Austin (Rugged Riders Book 4)
Creator:

Ambrielle Kirk

Language:en
Identifier:uuid:30b4edff-0010-44b4-8f2a-7ece6c6a5f47
Publisher:

1

Date:2016-06-22T18:30:00+00:00
File Size:327.285 KB
Table of Content
1. Without Limits Story Summary
2. Chapter 1
3. Chapter 2
4. Chapter 3
5. Chapter 4
6. Chapter 5
7. Chapter 6
8. Epilogue
9. Bonus Book: Taken by Temptation ~ Trent
10. Taken by Temptation Story Summary
11. Chapter 1
12. Chapter 2
13. Chapter 3
14. Chapter 4
15. Chapter 5
16. Chapter 6
17. Chapter 7
18. Chapter 8
19. Chapter 9
20. Chapter 10
21. Chapter 11
22. Chapter 12
23. Chapter 13
24. Chapter 14
25. Chapter 15
26. Chapter 16
27. Epilogue
28. Message from Ambrielle Kirk
29. Newsletter
30. Also By Ambrielle Kirk
31. About the Author
32. Copyright