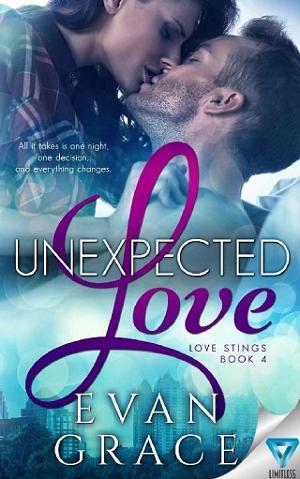 It was supposed to be a one-time thing. Just one night. No attachments, no strings, and no expectations. Little did Chloe know it would change her life forever.In hindsight, that night with Joe never should have happened. But it did.He was one mistake she never should have made. But she did. Now Chloe is in way too deep, stuck in a very complicated situation which seems impossible to get out of.Too bad she can't change the past. If she could do it all over again, she wouldn't be so reckless, so weak. She wouldn't succumb to temptation so easily…Or would she?
Book Details
File Nameunexpected-love-by-evan-grace.epub
Original TitleUnexpected Love (Love Stings Series Book 4)
Creator

Evan Grace

Languageen
IdentifierMOBI-ASIN:B073SGD6RG
Publisher

Limitless Publishing LLC

Date2017-07-17T16:00:00+00:00
File Size242.677 KB
Table of Content
1. Prologue
2. Chapter One
3. Chapter Two
4. Chapter Three
5. Chapter Four
6. Chapter Five
7. Chapter Six
8. Chapter Seven
9. Chapter Eight
10. Chapter Nine
11. Chapter Ten
12. Chapter Eleven
13. Chapter Twelve
14. Chapter Thirteen
15. Chapter Fourteen
16. Chapter Fifteen
17. Chapter Sixteen
18. Chapter Seventeen
19. Chapter Eighteen
20. Chapter Nineteen
21. Chapter Twenty
22. Epilogue
23. GET (5) FREE READS EVERY FRIDAY!