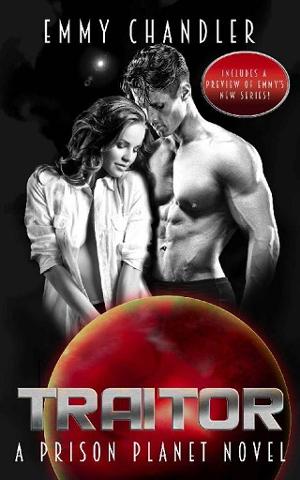 "I have no business even thinking about using her as bait."
Sold into slavery as a teenager, Mallory Landrum was held captive by Varian Roys until she was coerced into testifying against him, and despite their promise to protect her, the corrupt government of Kallisto sends her to Rhodon. There, she is rented out to wealthy guests who come to tour the prison planet until she escapes into the open population, only to find herself in zone three, hiding from the very man she sent to prison.
Hit man Barrett Oliver survived the brutal attack that took both his voice and his wife. He swore to kill everyone who played a part in her death, but when his vengeance falls short, he winds up on Rhodon, in the same zone as Varian Roys, the man he failed to kill.
When he discovers Mallory fleeing the wreckage of a crashed space yacht, he realizes she's just the bait he needs to draw their mutual enemy out of hiding. Though he can't speak to her, the more time he spends with the beautiful, psychologically fragile little survivor, the harder he falls for her. And the less willing he is to dangle her in front of a monster who's already taken his first love…
Book Details
File Nametraitor-by-emmy-chandler.epub
Original TitleTraitor (Prison Planet Book 6)
Creator

Emmy Chandler

Languageen
IdentifierMOBI-ASIN:B07FXRP767
Publisher

Emerson Ink

Date2018-08-08T16:00:00+00:00
File Size338.348 KB
Table of Content
1. Title Page
2. Copyright
3. Contents
4. About The Prison Planet Series
5. Chapter 1
6. Chapter 2
7. Chapter 3
8. Chapter 4
9. Chapter 5
10. Chapter 6
11. Chapter 7
12. Chapter 8
13. Chapter 9
14. Chapter 10
15. Chapter 11
16. Chapter 12
17. Chapter 13
18. Chapter 14
19. Chapter 15
20. Chapter 16
21. Chapter 17
22. Chapter 18
23. Chapter 19
24. Dear Reader,
25. ESCAPE
26. Interstitial
27. Escape
28. The Prison Planet Series
29. About Emmy