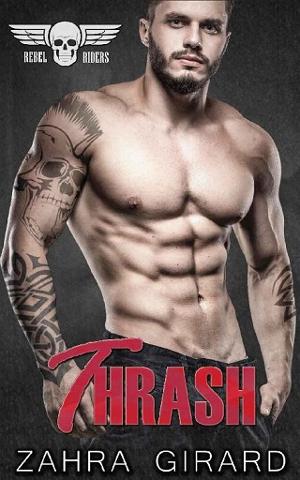 She works for my enemies, but I'm the one she begs for.
I'm one of the Rebel Riders MC.
Fearless, ruthless, and always one step ahead of my enemies.
I stand for my brothers in my club and nothing else.
And I'm determined to make sure my MC alone runs this town.
Then she comes along.
Alice, the fiery new bartender for a rival MC, the Reaper's Sons.
She owes them for saving her family and they've taken her in to work it off.
They trust her. I want her.
And I want intel on my enemies, the Reaper's sons.
I need to get close to her.
Close enough to kiss every curve.
Close enough to taste her heat.
Close enough she'll be begging to submit to my demands.
If they knew what we were up to, they'd kill us both.
If she knew what I was up to, she'd kill me herself.
Book Details
File Namethrash-by-zahra-girard.epub
Original TitleThrash (Rebel Riders MC Book 1)
Creator

Zahra Girard

Languageen
IdentifierMOBI-ASIN:B07H6CZM34
Date2018-09-06T16:00:00+00:00
File Size210.884 KB