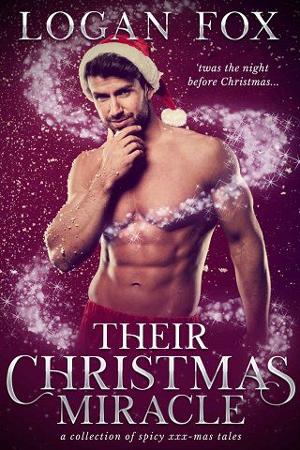 All you need to keep you warm this Christmas is a glass of eggnog and this spicy collection of holiday-themed tales.
*Have a Holly Jolly Christmas*
Attractive, workaholic Joshua is about to leave work to enjoy what precious little time he has left of Christmas Eve when he lays eyes on a mesmerizing creature.
His wicked imagination has her naked on his bed while he does savage and exquisite things to her.
When a strange turn of events has him taking Holly to dinner on Christmas Eve, he couldn't have been happier.
There's only one problem. She's his boss's daughter.
*Let it Snow*
After a disastrous dinner with her ex-husband, Elle's evening only gets worse when she can't collect her car from the auto shop.
Blake, the mechanic who owns the workshop, refuses to let her take the car without payment.
Can Elle persuade Blake to break his rules just this once, or is this Christmas Eve about to be her loneliest ever?
*All we want for Christmas*
Lexi and Erin's new husbands have been known to be rather sparing with their money; much to the twins's surprise, their double honeymoon is being held at a hotel in the middle of the mountains.
Each left with an envelope and explicit instructions, the sisters have to follow their new husbands's instructions to the tee…or risk their punishment.
What do these newlyweds have in store for them this Christmas Eve?
Put your feet up and escape to a world dusted with snow and sprinkled with love.
Book Details
File Nametheir-christmas-miracle-by-logan-fox.epub
Original TitleTheir Christmas Miracle: A collection of spicy xxx-mas tales
Creator

Fox, Logan

Languageen
Identifier3701489525
Publisher

L D Fox

Date2018-12-04
File Size630.615 KB
Table of Content
1. Title Page
2. Copyright
3. Contents
4. For Juan...
5. A Holly Jolly Christmas

I. Toner Boner
Joshua
Holly
Joshua
Holly
Joshua
Holly
II. Catsup & Tequila
Joshua
Holly
Joshua
Holly
Joshua
Holly
Joshua
Holly
Joshua
III. Josh's Elf
Holly
Joshua
Holly
Joshua
Holly
Joshua
Holly
Joshua
Holly
Joshua
Holly
Joshua
IV. Have a Holly Jolly Christmas
Holly
Josh
Holly
Joshua
Holly
Josh
Holly
Josh

6. Let it Snow

I. 'Twas the Night Before Christmas
Elle
II. Four-Hundred-Eighty
Blake
III. His Lucky Christmas Eve
Elle
Blake
Elle
Blake
IV. Watersports
Elle
Blake
Elle
Blake
Elle
V. Dirty Deal
Elle
Blake
Elle
VI. Taking Elle
Blake
Elle
Blake
VII. Let it Snow
Elle

7. All we want for Christmas

I. Not Barbados
Erin
II. Wine, Tequila, Absinthe
Lexi
III. A Rope to Bind
Erin
Lexi
Erin
Lexi
IV. A Good Little Pet
Erin
Zach
Mason
Zach
V. All we want for Christmas
Mason
Erin
Lexi
Just a Mix-Up

8. Also by Logan Fox
9. Also by Logan Fox
10. Also by Logan Fox
11. Thank You
12. About the Author