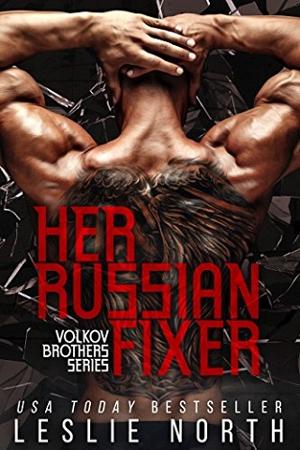 Leslie North is the pen name for a critically-acclaimed author of women's contemporary romance and fiction. The anonymity gives her the perfect opportunity to paint with her full artistic palette, especially in the romance and erotic fantasy genres.
Her Russian Fixer
The line between right and wrong blurs when a ruthless Russian becomes her dark protector.
Benedikt Volkov grew up in Chicago, but his family's ties to the Russian Mafia run deep. So when his godfather, Pyotr Mishin, steals millions from the Bratva, it's up to Ben to find him or his family will be forced to pay back the money. However, his careful plans are quickly complicated when an impulsive brunette forces him to become her unlikely hero. Ben hates surprises, and uncontrollable Lucy with her luscious red lips is a distraction that could get them all killed. But with an unexpected connection to his godfather, she may be the key to securing his family's future.
Lucy Paprocki may be reckless and disorganized, but she finds a new focus when her world is turned upside down. She's determined to find her real father, Pyotr Mishin—a man she didn't know existed until recently—and Ben Volkov may be her best chance. One look at his tattooed skin, muscled bulk, and penetrating stare, and Lucy knows Ben is Bratva. The mafia man may be hugely intimidating and wound tighter than a string, but Lucy will have to trust him if she wants to discover the truth about where she comes from.
With danger lurking behind every door, passion quickly ignites between impulsive Lucy and methodical Ben. They may just be using one another to get what they want, but what if all they really need is each other?
Her Russian Rescuer
Sometimes, not even the Russian Mafia can resist the pull of love…
As a man born and raised in Chicago's Russian Mafia, Nikolai Volkov is no stranger to the wrong side of the law. So when a crooked cop kills his best friend, Nik wants justice. He intends to ensure that the woman who witnessed everything will testify to what she saw, and with a killer on the loose, Nik may be the only man standing between Daphne Allman and deadly danger. Innocent Daphne doesn't deserve to be mixed up with a man like Nik, but he has no other choice. Either the curvy, blonde beauty takes the stand, or Nik takes matters into his own hands.
After witnessing a murder, Daphne is prepared to go to the police. So when a dark-haired, tattooed stranger shows up at her door offering protection, Daphne wants nothing to do with him. It's obvious he's some kind of Mafia muscle, and Daphne has no intention of putting her life in more danger. But after dirty cops threaten her and her fragile mother, Nik becomes her best chance at safety. When Daphne and Nik end up on the run, Daphne realizes strong, resourceful Nik can protect her from harm; but who will protect her from him? She may be putting her life in the Russian's hands, but she refuses to give him her heart.
Even as danger closes in around them, their attraction soon becomes undeniable. But as Nik descends deeper into his criminal ways to keep innocent Daphne safe, can he ever feel worthy of her love?
Her Russian Mobster
Sometimes love thrives, even in the most dangerous situations…
Fashion boutique owner Allison Charman isn't surprised to learn her brother is in deep debt to the Russian mob. What she's not prepared for is the man who comes to collect. Mob enforcer Kaz is massively tall with scarred, tattooed skin, but Allie refuses to be intimidated. She offers her store as payment, but Kaz has already set his sights on her. It doesn't take long for her to be seduced, but when Kaz offers to personally pay off the loan, Allie won't be bought. She may have fallen under the Russian's spell, but she'll take care of her family on her own terms.
Allie's life is at stake, and Kaz doesn't want anymore blood on his hands. With danger at every turn, will Kaz and Allie recognize that their connection is more than just skin deep in time to save them?
Book Details
File Namethe-volkov-brothers-by-leslie-north.epub
Original TitleThe Volkov Brothers Series: The Complete Series
Creator

Leslie North

Languageen
IdentifierMOBI-ASIN:B07BS3NXH2
Date2018-03-26T18:30:00+00:00
File Size657.431 KB
Table of Content
1. Title Page
2. Contents
3. The Volkov Brothers Series
4. Copyright
5. Mailing List
6. About Leslie
7. Her Russian Fixer

Blurb
1. Ben
2. Lucy
3. Ben
4. Lucy
5. Ben
6. Lucy
7. Ben
8. Lucy
9. Ben
10. Lucy
11. Ben
12. Lucy
End of Her Russian Fixer

8. Her Russian Rescuer

Blurb
1. Nik
2. Nik
3. Daphne
4. Daphne
5. Daphne
6. Daphne
7. Daphne
8. Daphne
9. Daphne
End of Her Russian Rescuer

9. Her Russian Mobster

Blurb
1. Kaz
2. Kaz
3. Kaz
4. Kaz
5. Allie
6. Kaz
End of Her Russian Mobster

10. Thank you!
11. Sneak Peek: Her Ruthless Russian