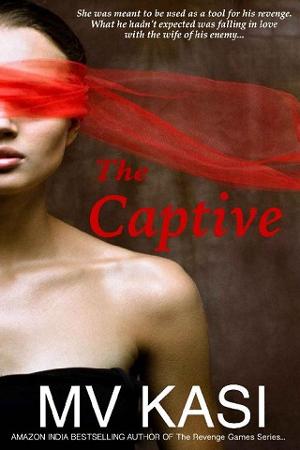 -The Captor–
When he kidnapped her, all he expected was a weak, pampered rich woman. What she actually was completely different. She was a fighter, a survivor, a wily seductress, and a genuinely beautiful and giving soul who destroyed some of the darkness that lurked inside him. The more time he spent around her, the more he became addicted. And before he knew it… he was falling in love with the wife of his enemy.
–The Captive–
When she was taken, all she knew was that her captor was dangerous. He had snatched her from her fairytale life, so he could use her as a tool for his revenge. But each time she spoke to him, and spent time in his company, he made her heart feel things it shouldn't. Under the cold, hard and cruel layers, she saw the real man. But he was also the man who wanted to destroy her husband. And she… she would do anything to save the person she loved.
Nina Bhupati was one lucky woman.
Her husband, a political figure and a business tycoon, loved to keep her in a lap of luxury. Rich, handsome and caring, he was also what most women dreamed of as an ideal husband.
But their fairytale life blew apart when Nina was kidnapped and held hostage.
Between the distraught husband who badly wanted her back, and the brutal, determined man who was bent upon shattering her soul, Nina must survive her days and also the nights as—THE CAPTIVE.
Book Details
File Namethe-captive-by-mv-kasi.epub
Original TitleThe Captive (A Dark, Romantic Thriller set in India)
Creator

MV Kasi

Languageen
IdentifierMOBI-ASIN:B077QZSYG1
Date2018-02-13T16:00:00+00:00
File Size330.961 KB
Table of Content
1. PROLOGUE
2. CHAPTER 1
3. CHAPTER 2
4. CHAPTER 3
5. CHAPTER 4
6. CHAPTER 5
7. CHAPTER 6
8. CHAPTER 7
9. CHAPTER 8
10. CHAPTER 9
11. CHAPTER 10
12. CHAPTER 11
13. CHAPTER 12
14. CHAPTER 13
15. CHAPTER 14
16. CHAPTER 15
17. CHAPTER 16
18. CHAPTER 17
19. CHAPTER 18
20. CHAPTER 19
21. CHAPTER 20
22. CHAPTER 21
23. CHAPTER 22
24. CHAPTER 23
25. CHAPTER 24
26. CHAPTER 25
27. CHAPTER 26
28. CHAPTER 27
29. CHAPTER 28
30. CHAPTER 29
31. CHAPTER 30
32. CHAPTER 31
33. CHAPTER 32
34. CHAPTER 33
35. CHAPTER 34
36. CHAPTER 35
37. CHAPTER 36
38. CHAPTER 37
39. CHAPTER 38
40. CHAPTER 39
41. CHAPTER 40
42. CHAPTER 41
43. CHAPTER 42
44. CHAPTER 43
45. CHAPTER 44
46. CHAPTER 45
47. CHAPTER 46
48. CHAPTER 47
49. CHAPTER 48
50. CHAPTER 49
51. CHAPTER 50
52. CHAPTER 51
53. CHAPTER 52
54. CHAPTER 53
55. CHAPTER 54
56. CHAPTER 55
57. CHAPTER 56
58. CHAPTER 57
59. CHAPTER 58
60. CHAPTER 59
61. CHAPTER 60
62. EPILOGUE