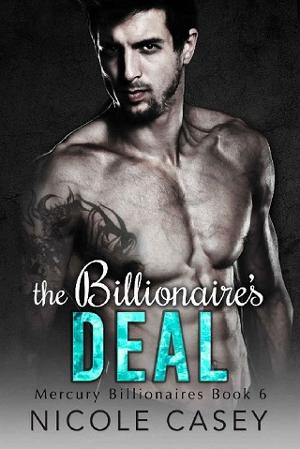 I never let emotion get in the way of a good deal… until I meet her.
I'm about to close the biggest deal in my life. The documents are signed. The price is set. The only problem? My client's sweet, young virgin daughter is helping me with the details, and all I can think about is taking her over my knee and on my desk, all for her very first time. I shouldn't peek into Cherry's notebook, but I did anyway. I can't help myself. I peel it open, run my fingers along the paper, and find the most pleasant surprise.
This dirty little virgin has been dreaming about public s*x, handcuffs, and blindfolds. So the game is on. It might blow the deal. It goes against all my rules. But I can't resist her lush curves or those kinky fantasies. Damn it. F*ck business.Deal or no deal, her a$$ is mine.
Book Details
File Namethe-billionaires-deal-by-nicole-casey.epub
Original TitleThe Billionaire's Deal (Mercury Billionaires Book 6)
Creator

Nicole Casey

Languageen
IdentifierMOBI-ASIN:B076MGHL1Y
Date2017-10-19T04:00:00+00:00
File Size369.931 KB
Table of Content
1. Copyright
2. Table of Contents
3. Also By Nicole Casey
4. Free Book Giveaway
5. Book Description
6. Prologue
7. 1. Cherry
8. 2. Cherry
9. 3. Dylan
10. 4. Dylan
11. 5. Cherry
12. 6. Cherry
13. 7. Dylan
14. 8. Cherry
15. 9. Dylan
16. 10. Dylan
17. 11. Cherry
18. Epilogue
19. Bonus Content
20. Dr. Sanchez

Book Description
1. Janie
2. Frank
3. Janie
4. Frank
5. Janie
6. Frank
7. Janie
8. Frank
9. Janie
10. Frank
11. Janie
12. Frank
13. Janie
14. Frank
15. Janie
16. Frank

21. TRAPPED WITH MY BOSS

Book Description
1. Kate
2. Simon
3. Kate
4. Simon
5. Kate
6. Simon
7. Kate
8. Simon
9. Kate
10. Simon
11. Kate
12. Simon
13. Kate
14. Simon
15. Simon
16. Kate

22. Shipwrecked in Love

Book Description
1. Adam
2. Jessie
3. Adam
4. Jessie
5. Adam
6. Jessie
7. Adam
8. Jessie
9. Adam
10. Jessie
11. Adam
12. Jessie
13. Adam
14. Jessie

23. Author's Note
24. About the Author