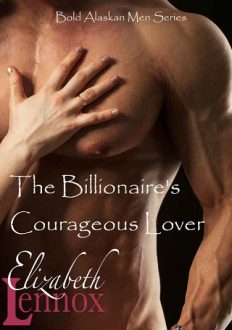 The adorable, sexy teacher came into town…and blew Knox away! She was so completely wrong for him but…he couldn't stay away. Knox knew she was good for the town, great for the kids she taught. And he more than happy to guide her on how to live in Alaska with the snow, the lack of daylight, all the animals and…
Who was he kidding? Andie was perfect. Just not for him.
Andie had fallen hard for the rough looking lumberjack/bartender. He was kind and generous, protective and…so hot he made her knees wobble just looking at him.
But he didn't trust her. He'd been hurt in the past and was sure that she would get tired of life in the harsh Alaskan town.
Fortunately, Andie was made of sterner stuff. She'd grown up in Boston. Therefore, nothing could terrify her! She was here to stay. She just needed to convince Knox of that fact.
Book Details
File Namethe-billionaires-courageous-lover-by-elizabeth-lennox.epub
Original TitleThe Billionaire's Courageous Lover (Bold, Alaskan Men Book 3)
Creator

Elizabeth Lennox

Languageen
IdentifierMOBI-ASIN:B01HDYD1ZG
Publisher

Elizabeth Lennox Books, LLC

Date2016-09-16T05:00:00+00:00
File Size197.397 KB
Table of Content
1. Chapter 1
2. Chapter 3
3. Chapter 4
4. Chapter 5
5. Chapter 6
6. Chapter 7
7. Chapter 8
8. Chapter 9
9. Chapter 10
10. Chapter 11
11. Chapter 12
12. Chapter 13
13. Chapter 14
14. Chapter 15
15. Chapter 16
16. Excerpt for The Billionaire's Adventurous Mistress