Tennis in Heels by Sophie Kaye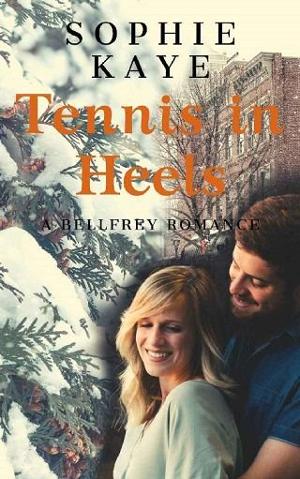 "My name is Jessica Sangold. And I'm a resident of Bellfrey. Bellfrey is an old-fashioned small-town. We may lead simple lives, but we appreciate the things that matter. Not only do we help our neighbors, but we care about keeping our community thriving. We are loyal to the businesses in our town and we depend on many of them."
Jessica's mother sets her up on a date with an old family friend at the country club. In an effort to escape him, Jessica flees the lunch and ends up at the tennis court with a charming man from Bellfrey, Michael. Who can't play tennis.
To pass the time, Jessica tries to teach him some basics. But it doesn't take long before she realizes you should never play tennis in heels.
After being carried up to the main house by Michael, Jessica fears she'll never see him again. Judge her surprise when she finds out they'll be working closely together, not only as colleagues but in order to save the Bellfrey Bank.
Can Jessica convince him the family friend means nothing to her?
Will they be able to save the bank?
File Name:tennis-in-heels-by-sophie-kaye.epub
Original Title:Tennis in Heels (Bellfrey Romance Book 2)
Creator:

Sophie Kaye

Language:en
Identifier:MOBI-ASIN:B0841NZY5B
Publisher:

Sophie Kaye

Date:2020-01-25T16:00:00+00:00
File Size:250.102 KB
Table of Content
1. Title Page
2. Copyright Page
3. Chapter One
4. Chapter Two
5. Chapter Three
6. Chapter Four
7. Chapter Five
8. Chapter Six
9. Chapter Seven
10. Chapter Eight
11. Chapter Nine
12. Chapter Ten
13. Chapter Eleven
14. Chapter Twelve
15. Chapter Thirteen
16. Chapter Fourteen
17. Chapter Fifteen
18. Chapter Sixteen
19. Chapter Seventeen
20. Chapter Eighteen
21. Chapter Nineteen
22. Chapter Twenty
23. Chapter Twenty-one
24. Chapter Twenty-two
25. Chapter Twenty-three
26. Chapter Twenty-four
27. Chapter Twenty-five
28. Would you like the prequel to the Bellfrey Romance series for free?