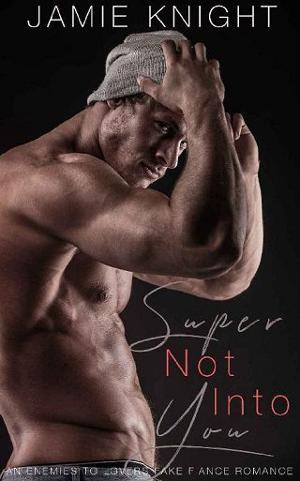 She hates me, I want her, and we're fake engaged.
Scout's super hot but her heart has turned icy towards me.
All because I accidentally messed up her volunteer organization's fundraiser.
I want to get back into her good graces.
And get my hands all over her curvy body.
I save her from her ex-boyfriend by claiming to be her fiancé.
This fake engagement could be a win-win for both of us.
It'll fix my public image as a bad boy football player.
And it'll bring her organization into the press.
All we have to do is pretend well enough.
It's clear she's hesitant, but I have ways to fix that.
Little does she know, I'm going to claim her heart- for real.
Book Details
File Namesuper-not-into-you-by-jamie-knight.epub
Original TitleSuper Not Into You: An Enemies to Lovers Fake Fiance Romance
Creator

Jamie Knight

Languageen
IdentifierMOBI-ASIN:B07QTX524R
Date2019-04-16T23:00:00+00:00
File Size655.040 KB
Table of Content
1. Chapter One
2. Chapter Two
3. Chapter Three
4. Chapter Four
5. Chapter Five
6. Chapter Six
7. Chapter Seven
8. Chapter Eight
9. Chapter Nine
10. Chapter Ten
11. Chapter Eleven
12. Chapter Twelve
13. Chapter Thirteen
14. Chapter Fourteen
15. Chapter Fifteen
16. Chapter Sixteen
17. Chapter Seventeen
18. Chapter Eighteen
19. Chapter Nineteen
20. Chapter Twenty
21. Chapter Twenty-One
22. Chapter Twenty-Two
23. Chapter Twenty-Three
24. Chapter Twenty-Four
25. Chapter Twenty-Five
26. Chapter Twenty-Six
27. Chapter Twenty-Seven
28. Epilogue
29. Sneak Peek of Super Over You
30. Newsletter Signup and Free Book